Adventure Rating in Rome
TOP-65 adventure's step-by-step
recipes & lifehacks
How to drive Vespa - iconic italian scooter in Rome
How to peek through the Knights of Malta keyhole in Rome
How to visit the Colosseum in Rome
How to see the illusion of St. Peter's dome in Rome
How to climb to the roof of the Altar of the Fatherland in Rome
How to admire Rome from the Aventine Hill in Rome
How to walk through the orange garden in Rome
65 things to doin Rome
Take local guide
You can visit this place in one of our tours.
Choose
Former stadium at Julius Caesar's time, now, this rectangular area, with its palaces, churches and fountains is a favorite vacation spot of locals.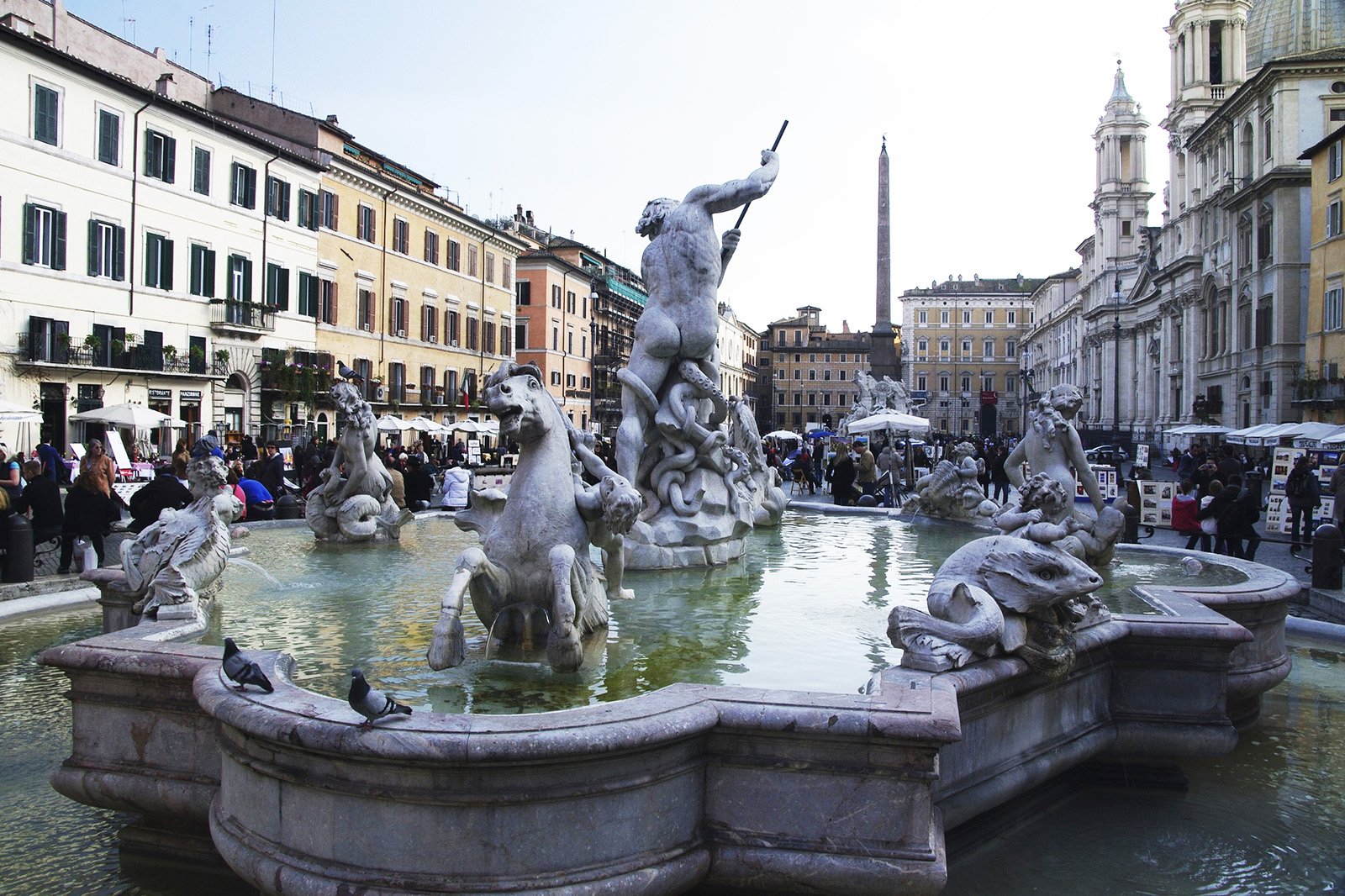 Long-drawn square Piazza Navona is hiding in the very center of Rome in the maze of Italian narrow streets. Here spectacular fountains are rushing, street entertainers and musicians give performances, multilingual guides get groups of tourists familiar with the history of the square. Here you can take a seat at the cafe's table to have a cup of cappuccino and spend time enjoying the pulse of life in the center of Italian capital.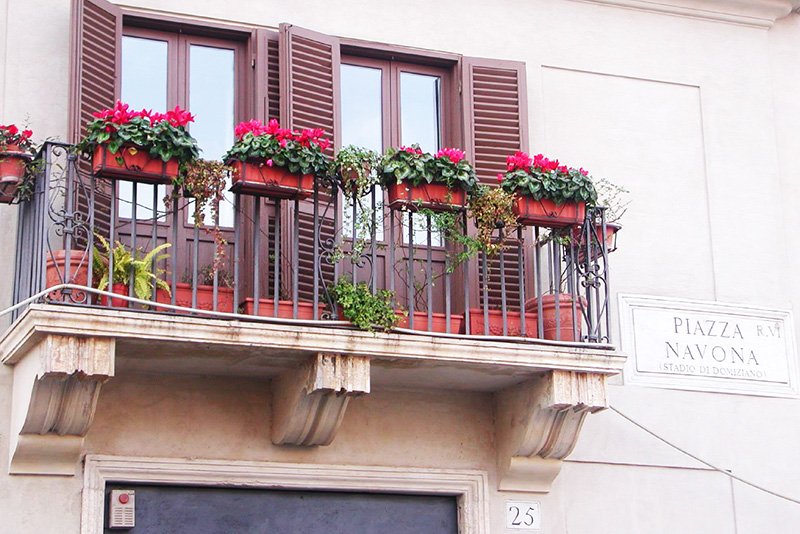 Photo: Piazza Navona, © shutter_lust@flickr
It is one of the most lively squares in Rome where you can find plenty of cafes open-air, restaurants and night clubs. By night the suquare is overcrowded, but if you want to see real beauty of the square come here early in the morning when it is empty of people.
Piazza Navona history
The history of the square traces back a half of a century BC. At that time Caesar ordered to construct a stadium for sports competition and chariot races. In 85 the then ruler Domitianus gave an order to extend the construction. Renewed almost 300-meter long and 100-meter wide arena could hold 30 thousand fans of antique times. Till IV century AD fistfightings, discus throwing and running competitions used to take place here.
In the Middle Ages arcades on the outside with brothels and traders' stalls inside were demolished. New houses were built on the remained foundations and the former arena turned into a fabulous square where from the end of XV century till the latter part of XIX century market was prospering. And Piazza Navona again turned into the place of tournaments, city festivals and puppet performances and neighboring houses became residences for notable people.
Piazza Navona sights
Piazza Navona is called the Square of three fountains:
•
Fontana dei Quattro Fiumi
in the center of the square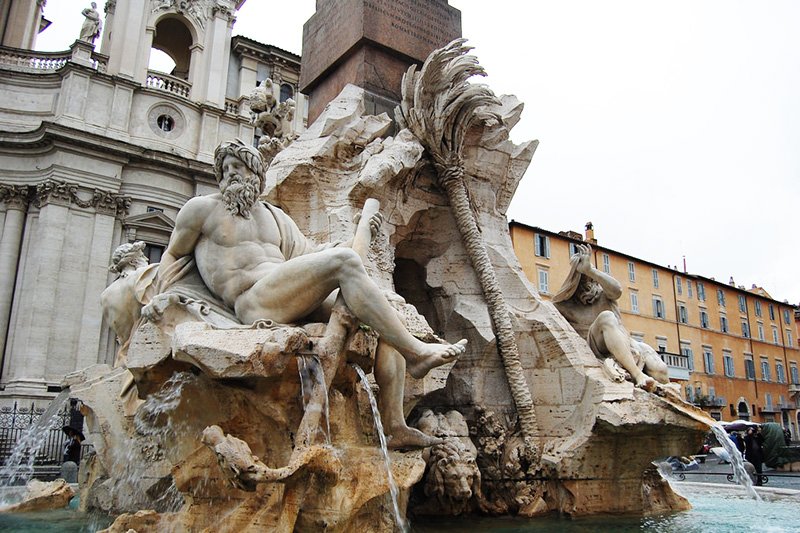 Photo: Fontana dei Quattro Fiumi, © su-lin@flickr
•
Fontana del Moro
at the southern part of the square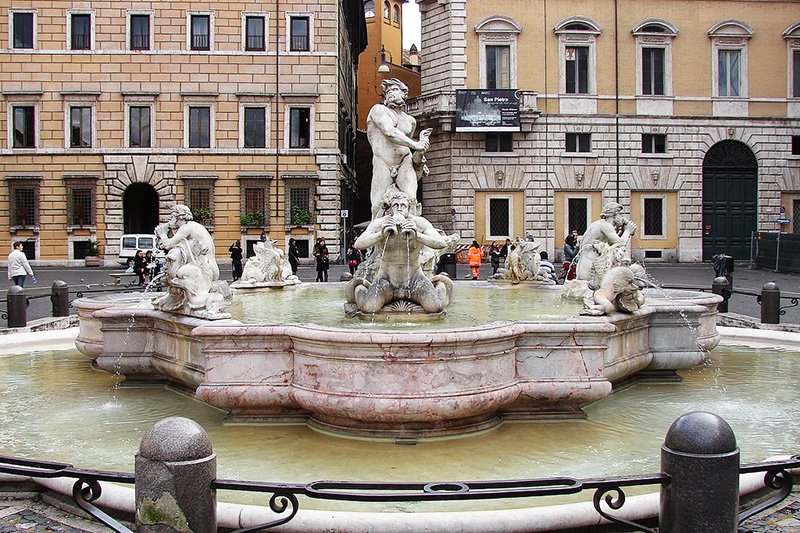 Photo: Fontana del Moro, © Rafael Jiménez
•
Fontana del Nettuno
at the northern part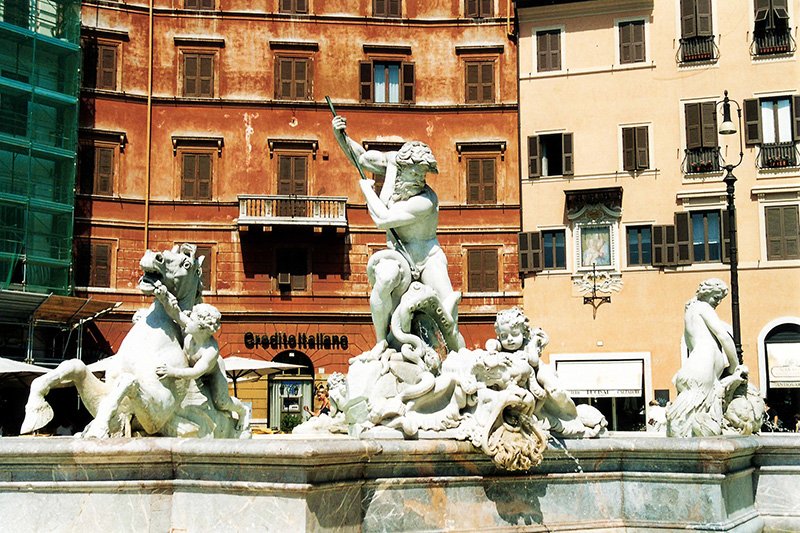 Photo: Fontana del Nettuno, © altotemi
In front of the Fountain of the Four Rivers you can see
Sant'Agnese in Agone church
.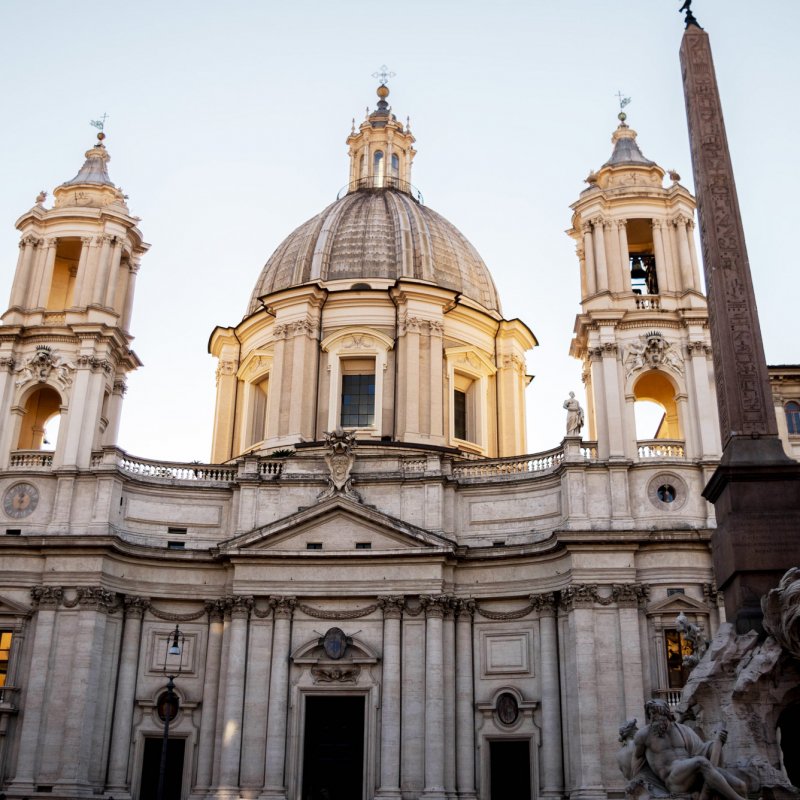 Photo: Sant'Agnese in Agone, © hiwhataboutyou@flickr
Not far from Sant'Agnese in Agone church you can see Palazzo Pamphilj constructed in XVII century by achitect mannerist Rainaldi. Now the Embassy of Brazil is situated here.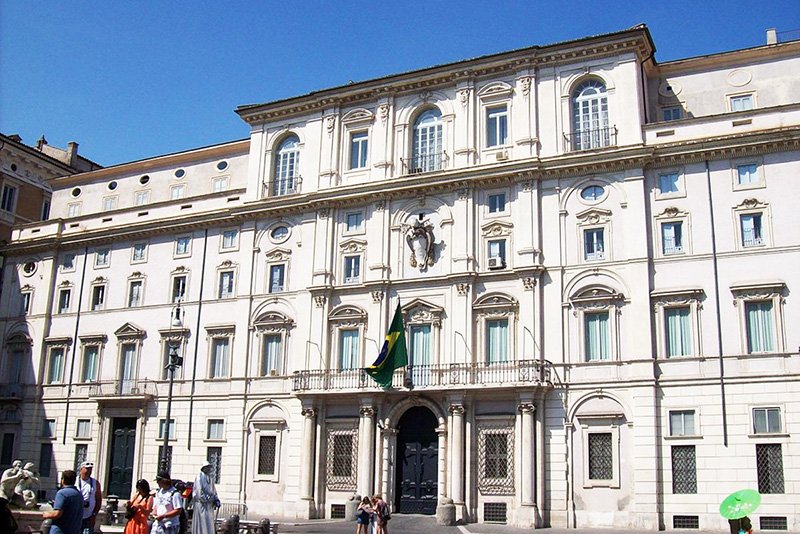 Photo: Palazzo Pamphili
In the north of Piazza Navona there is Nostra Signora del Sacro Cuore cathedral. It was constructed in honour of Most Holy Mother of God at the ruins of dominican stadium in XVI century. Fernando III de Castilla funded the construction of the basilica. From XVI till XVII the church on Piazza Navona was considered to be the national Spanish church.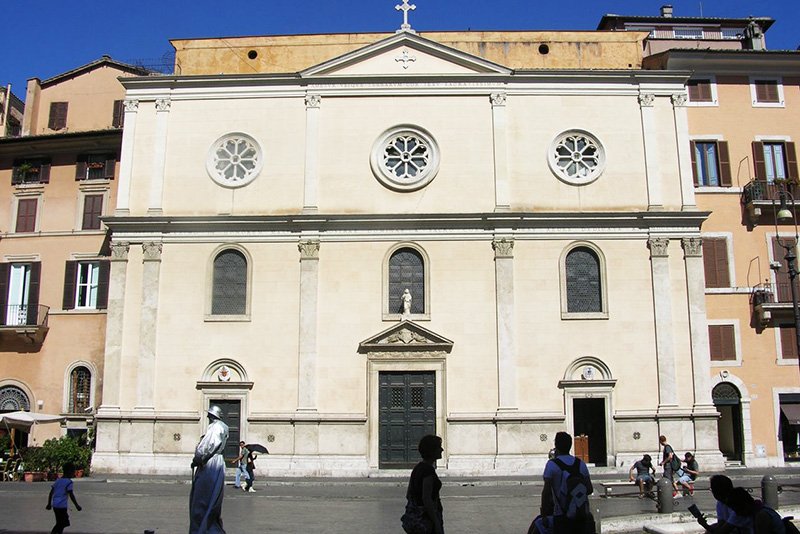 Photo: Nostra Signora del Sacro Cuore
If you are interested in traditions of the city life in different historical periods - you can visit the Museum of Rome on Piazza Navona. Here collections of books, photographs, household items and clothes are kept.
What to do here
Nowadays Piazza Navona is a fabulous walking square where the locals take an evening promenade. Piazza Navona in Rome is never deserted. Not only architectural masterpieces and fabulous fountins draw travellers to this place. Piazza Navona is also a fashion place. If you want to see creations of young Italian desighners - in neighboring boutiques you'll definitely find some of them.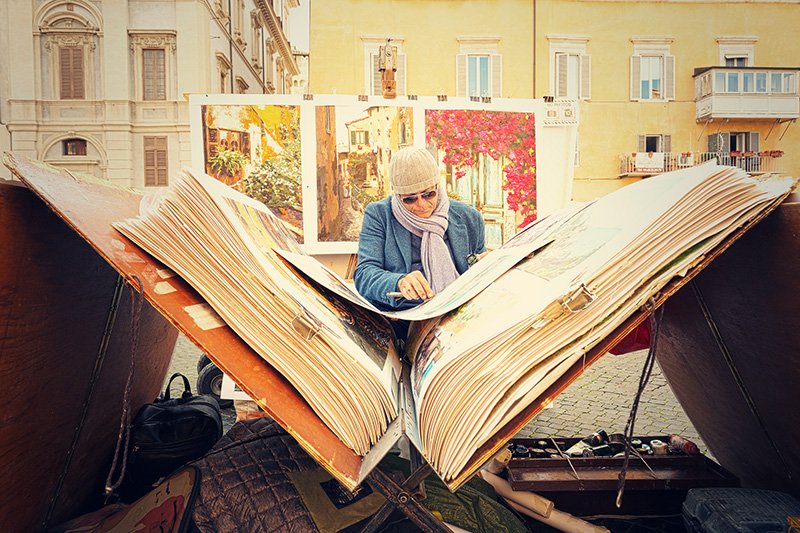 Photo: Street painters in Piazza Navona, © MariaCarla F
Till the late night the life is on here. On Piazza Navona you'll find artists painting and selling their pictures, musicians, mime artist and other street entertainers performing. Children are running around and the locals are exchanging the latest news. All round Piazza Navona in Rome there are restaurants and cafes. You can have a meal here, but don't be surprised when you find it overprised. Here you can taste well-known dessert Tartufo - ice cream truffle.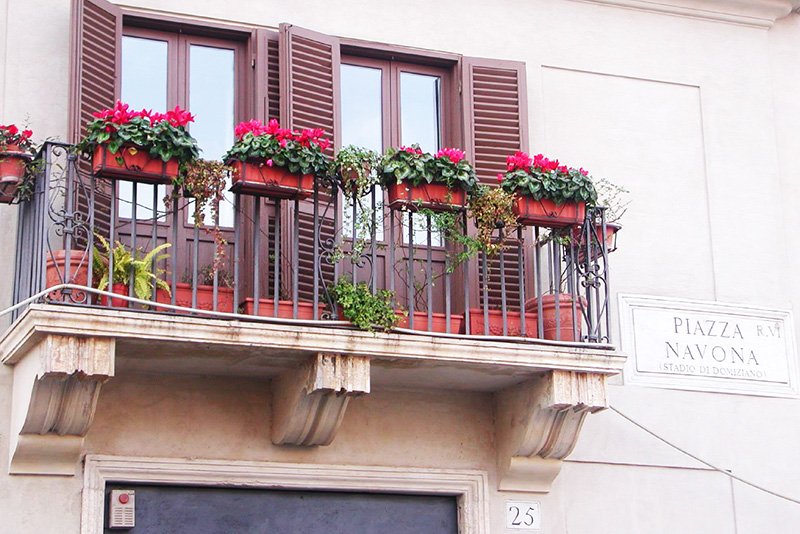 Photo: Piazza Navona, © shutter_lust@flickr
How to get
Elegant Piazza Navona is located in the historical center of Rome in the west to the Pantheon. Finding the square won't be difficult - it is situated between the most visited sights of Rome. You can take bus 56, 60, 85, 116, 492 to get here.
Piazza Navona on the map
Location: Piazza Navona, Rome