The tour will start beside one of the major basilicas of Rome, church of Santa Maria Maggiore. The first stop will be at the monumental Colosseum, one of the most visited sights in the world.
You will continue towards Circus Maximus and Theatre of Marcellus up to Piazza Venezia, where you can admire the Altare della Patria (Altar of the Fatherland) also known as the National Monument to King Victor Emmanuel II.
In few minutes, you will arrive at Piazza della Rotonda to the Pantheon, a specific temple dedicated to all Roman Gods. Driving amongst the little cobblestoned streets you will reach Piazza Navona, a square built on the site of an ancient stadium, famous for Bernini Fountain.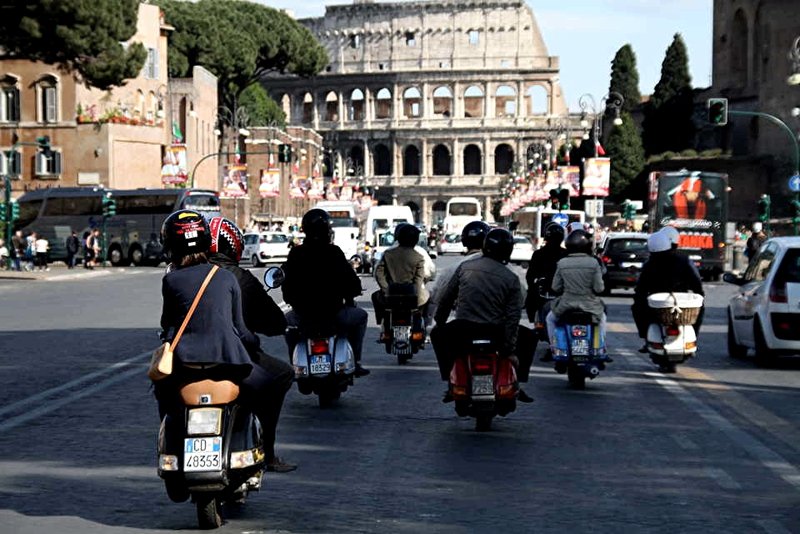 Photo: Rome on scooter, ©
Crossing the Tiber River, you will admire Castle of Holy Angel, commissioned by the Emperor Hadrian as a mausoleum for himself and later used by the popes as a fortress.
From there, you can also see one of the largest churches in the world, St Peter's Basilica, one of the most prominent buildings of Italian Renaissance, designed by artists such as Bramante, Michelangelo and Bernini.
The last stop will be at the Janiculum Hill with its spectacular view over the city.
Meeting point on the map
Piazza dell'Esquilino, 28
Languages:

English

Italian

Russian
Duration: 3 hours
Included: tour leader helmet, insurance, gas and tax, guest assistance.
Not included: transfer from/to hotel.
Book in one click

4 travellers liked this tour

Limited number of tickets. Don't miss it!
Book now