Safe
partner
Organizer
Kelly Medford | Official website
I'm Kelly Medford, an American living and working as a plein air painter in Italy since 2005. Artists and non-artists alike have been keeping sketchbook journals of their travels for centuries and I am honored to continue this long standing tradition. That is why I started Sketching Rome Tours as a way to offer this experience to everyone.
Having the opportunity to create your own sketchbook journal while visiting Rome is not only a unique experience, but one that you will cherish and remember always. No need to be an artist, architect or otherwise experienced at drawing. When you sit and observe a place while recording your own personal memories of that day, these memories will be more vivid than any photograph of your trip.
We have 3 hours together in a location in the historical center of Rome, usually a park or green area a little off the beaten path to avoid the crowds but still easy to reach by public transportation or walking.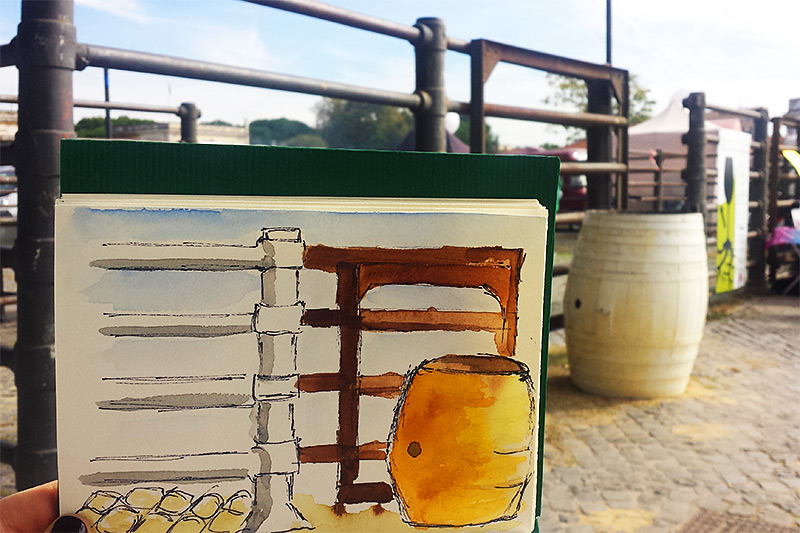 You have your sketch kit that I prepare for you, which includes: Handbound sketchbook – Waterproof drawing pen – Pencil (NO eraser!) – Pencil Sharpener – Waterbrush – Travel Watercolor Kit – Bag to hold it all together. We work first with pencil, then with pen and finishing with watercolor.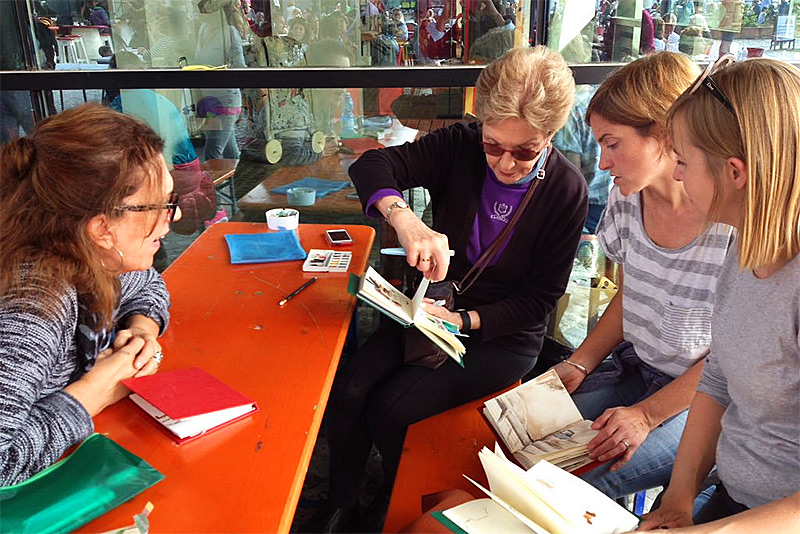 You will be lead through simple exercises exploring different ways to use each of the materials provided for you, one at a time. This methodical approach not only keeps it simple but lets you find which expression works best for you or is most appropriate for the subject you have chosen to sketch.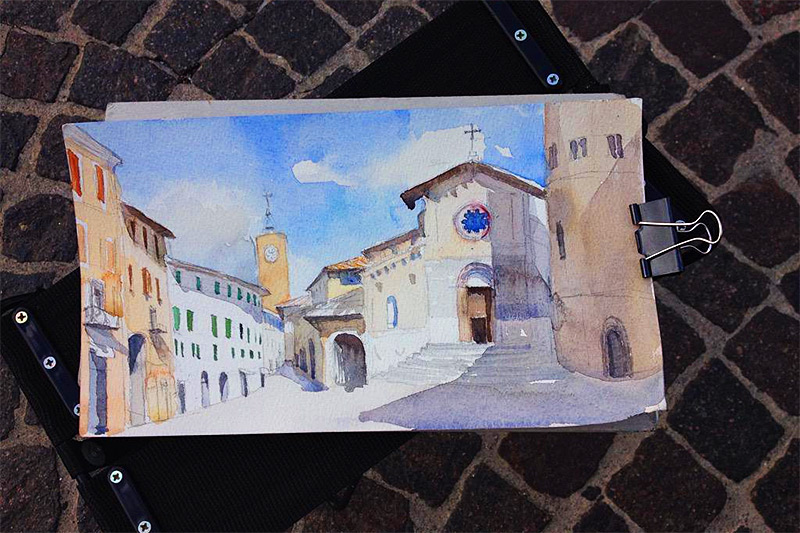 It's fun and you always have the choice to share or not with the group. Everyone is encouraged and there is no lecturing on perspective, measuring or anything highly technical, while you will however be provided with the right balance between structure and freedom to sketch and experiment in each medium after the initial exercises and instruction.
It's simple and relaxed, we're in no rush and we're out to enjoy our time together. I find that every single time people are always impressed by the beautiful and expressive sketches they create.
Group Sketching Tour
Price:
€125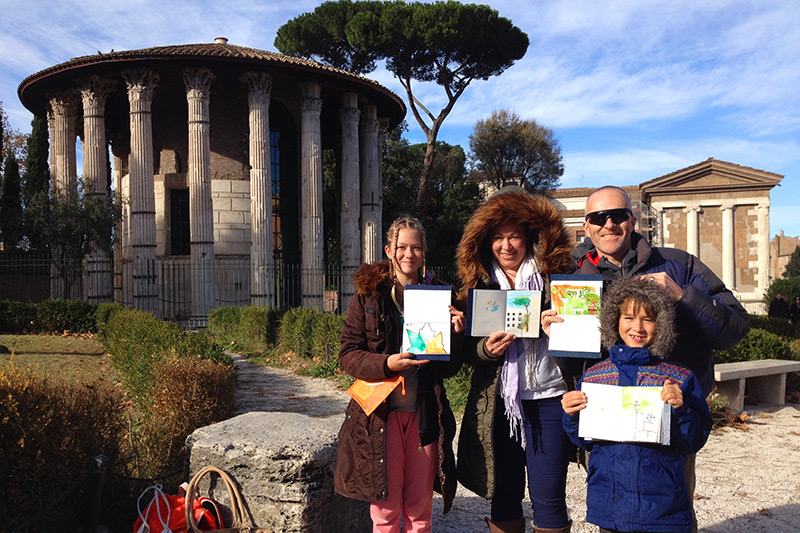 Join a group of other travelers, locals, families and other like-minded folks on your 3-hour sketching tour. This is our general tour that is perfect for solo travelers wanting to take part in a group or for anyone who is happy being together with others and learning in a group setting.
Book online
Private Group or Family Tour (4+ people)
Price:
€475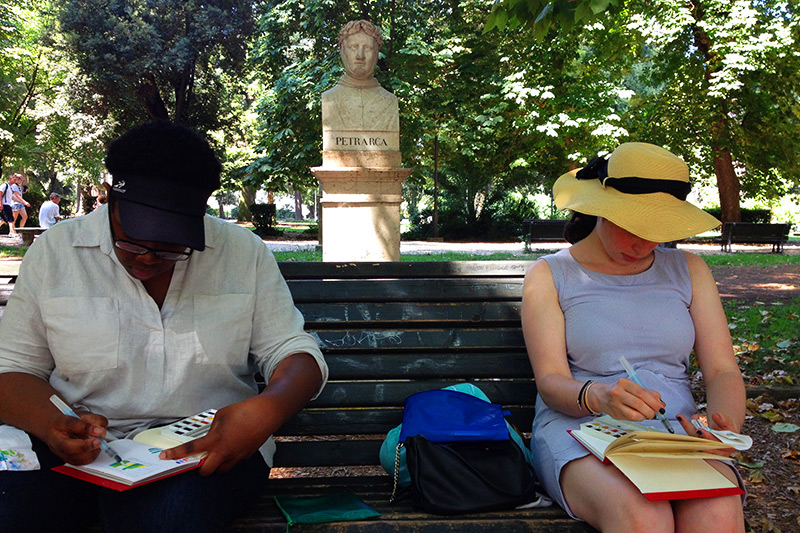 A great way to spend an afternoon in Rome with a group of friends or family, sketching together in an off-the-beaten-track location in the heart of The Eternal City is a wonderful shared experience.
This tour is designed as an intimate experience just for a group or family with or without children and allows you to enjoy this time just together with an experienced artist who will lead you step-by-step in simple techniques in keeping a sketchbook journal.
This sketching tour provides your group or family the opportunity to experience something new and fun together as you share your sketches and learn together. Kids love to draw, but adults decidedly love it more and sharing this activity together is priceless. You will have the comfort of being together without other strangers joining your group and will feel right at home with the special attention that your sketch tour leader, experienced in working with all age ranges, will give to your group or family.
Book online
Private 1-on-1 Tour
Price:
€350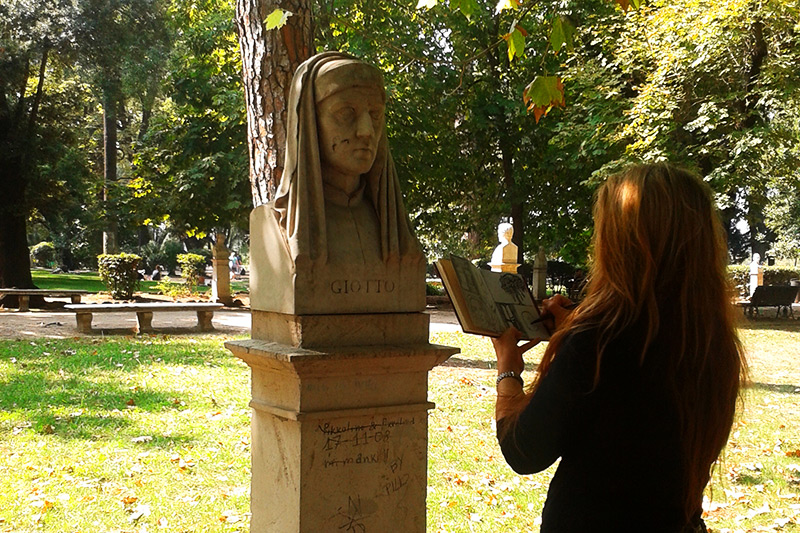 This tour is for someone who feels that they want the instructor all to themselves. Whether you feel shy to work in a group or are already studying and want more in depth feedback in developing your techniques in pen, pencil or watercolor or want to branch out and try something new. This 3 hour private session will give you concrete tools to help you work independently with confidence in your sketchbook that you can take away in your travels and continued work.
Book online
Duration: 3 hours.
Included: sketch kit which includes: Handbound sketchbook – Waterproof drawing pen – Pencil (NO eraser!) – Pencil Sharpener – Waterbrush – Travel Watercolor Kit – Bag to hold it all together.