Safe
partner
Organizer
Dubai Aquarium & Underwater Zoo | Official website
The 10-million liter Dubai Aquarium tank, located on the Ground Level of The Dubai Mall, is the largest suspended aquarium in the world.
Take a trip in a glass-bottom boat
#23 of 74 things to do in Dubai
In the heart of world's biggest shopping center there is also the world's biggest aquarium, where you can take a ride on a glass bottom boat hovering over the skates and sharks.

Through the transparent bottom you will see an amazing underwater world with the richest collection of undersea creatures, like huge sharks, moray eels, stingrays, nobly waving their "wings" as if they were flying high in the sky.

Virtually every Dubai visitor plans on coming here and seeing this huge, unusual and impressive oceanarium.

The boat, loaded with passengers, takes off on a trip every 10-20 minutes. The ride duration is about 15 minutes. You can be sure that you won't have to wait long, and the impressions will erase the unpleasant moments of the time, spent in the queue. So, take on a short, but very memorable adventurous trip.
Where to do?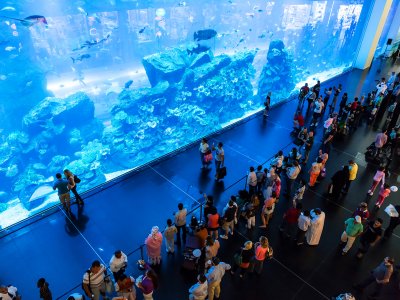 Dubai Aquarium & Underwater Zoo
Aquarium & Underwater Zoo in Dubai Mall is a vivid underwater world of man-made ocean in a huge aquarium and arched tunnel.
75
Dubai
Location:
The Dubai Mall in Downtown
Open hours:
from Sunday to Thursday from 10:00 am to 22:00 pm; from Thursday to Saturday from 10:00 am to 11:59 pm
Phone:
+9714485200
Official website:
http://thedubaiaquarium.com
How much?
the cost of the ticket is 120 dirhams. The price also includes an underwater tunnel, underwater zoo and submersible simulator.