Safe
partner
Organizer
Dubai Aquarium & Underwater Zoo | Official website
The 10-million liter Dubai Aquarium tank, located on the Ground Level of The Dubai Mall, is the largest suspended aquarium in the world.
See the King Croc
#9 of 74 things to do in Dubai
A fascinating new addition at Underwater Zoo is King Croc, regarded as nature's rare phenomenon and one of the world's largest reptiles.

King Croc and his female companion of 20 years reside in a special enclosure that replicates their natural habitat. At over 5 metres long and weighing an imposing 750 kilograms plus, equivalent to the weight of over 15 fully-grown men, King Croc is 40 years old and has the potential to grow even bigger in the next 50 years of his expected lifespan.
Where to do?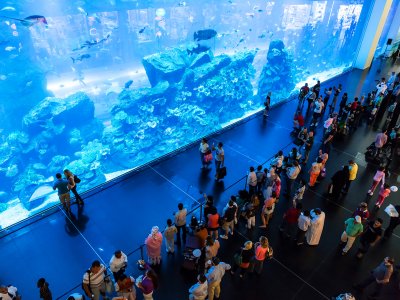 Dubai Aquarium & Underwater Zoo
Aquarium & Underwater Zoo in Dubai Mall is a vivid underwater world of man-made ocean in a huge aquarium and arched tunnel.
75
Dubai
Location:
The Dubai Mall in Downtown
Open hours:
from Sunday to Thursday from 10:00 am to 22:00 pm; from Thursday to Saturday from 10:00 am to 11:59 pm
Phone:
+9714485200
Official website:
http://thedubaiaquarium.com
How much?
the ticket price is 200 durhams (≈$54). The cost covers entrance to the Underwater Zoo and Aquarium Tunnel.