Adventure Rating in Dubai
TOP-79 adventure's step-by-step
recipes & lifehacks
How to go buggy driving in the desert in Dubai
How to try sandboarding on sand dunes in Dubai
How to go to a desert jeep safari in Dubai
How to get on the top of the Burj Khalifa in Dubai
How to admire the singing fountain in Dubai
How to see a skeleton of a gigantic 155,000,000-year-old dinosaur in Dubai
How to take an abra boat in Dubai
79 things to doin Dubai
Aquarium & Underwater Zoo in Dubai Mall is a vivid underwater world of man-made ocean in a huge aquarium and arched tunnel.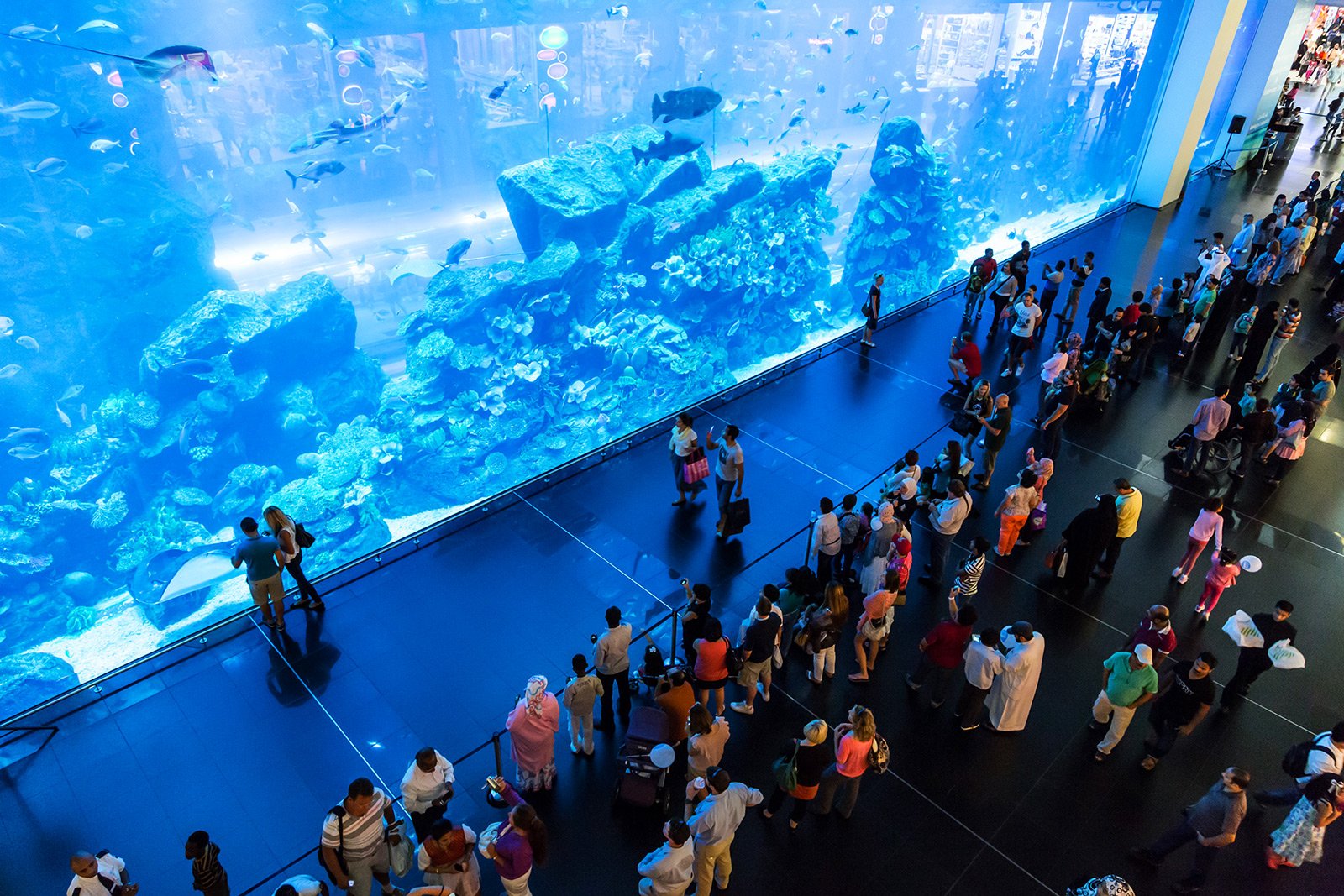 In the world's largest shopping center Dubai Mall, the world's largest Dubai Aquarium and Underwater Zoo are located. Here you can find thousands of marine inhabitants and underwater plants, an of course dozens of fascinating and extreme entertainments.
Aquarium
The world's largest glazed aquarium with tons of water, where the artificial habitat resembles the seabed, the backlight simulates the change of day and night and maintains a comfortable temperature of 24 °. Here you can see thousands of inhabitants of the sea depths, swim with sharks, feed the rays and immerse yourself in the secrets of the underwater world. The entrance to the aquarium is located on the ground floor of the Dubai Mall, but you can explore the main Aquarium both outside and inside (a small lifehack, in case you do not want to pay for the entrance).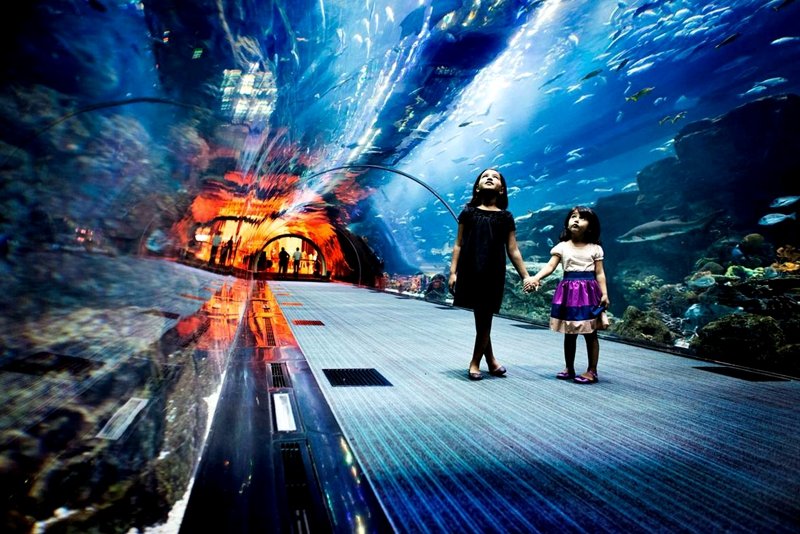 Photo: Underwater tunnel
Interesting facts
• The largest aquarium in the world with a vertical wall made of acrylic perplex (wall thickness is 75 centimeters).
• Aquarium contains 10 million liters of sea water.
• More than 33,000 marine inhabitants live here.
• It contains a record population of sand tiger sharks.
• The length of the glass tunnel is 48 meters.
• It is contributed in the Guinness World Records Book.
Aquarium entertainment list
1. Snorkelling Experience - the ability to watch skates, sharks and other marine animals without equipment, only in a mask with a tube and fins.
Duration:
30 minutes.
Price:
290 dirhams ($79).
2. Glass bottom boat ride - you can view the underwater world through the transparent bottom of the boat without getting up.
Duration:
15-minute ride for 10 people.
Price:
25 dirhams ($7).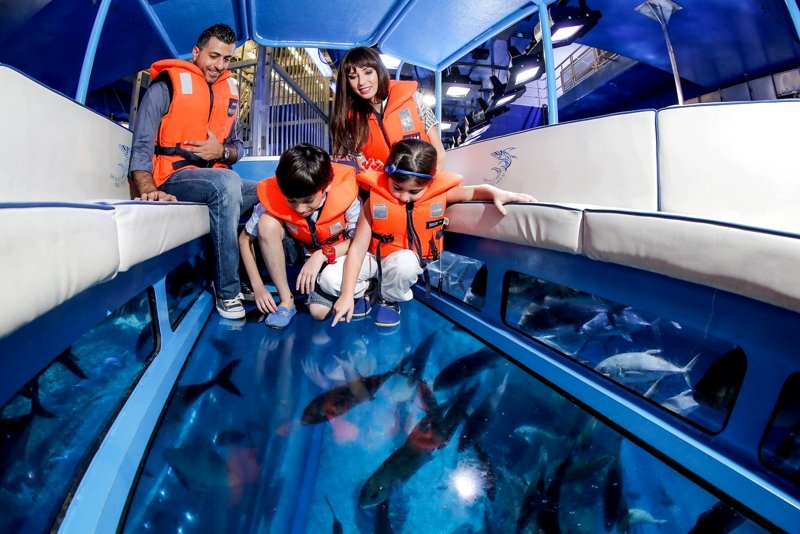 Photo: Walk in a boat with a glass bottom
3. Diving with sharks - beginner or professional diver - it does not matter, everyone can dive in the aquarium with sharks.
Duration:
20 minutes (three times a day).
Price:
675 dirhams ($ 180) for certified divers, and 875 dirhams ($ 240) for beginners + video shooting for a little fee.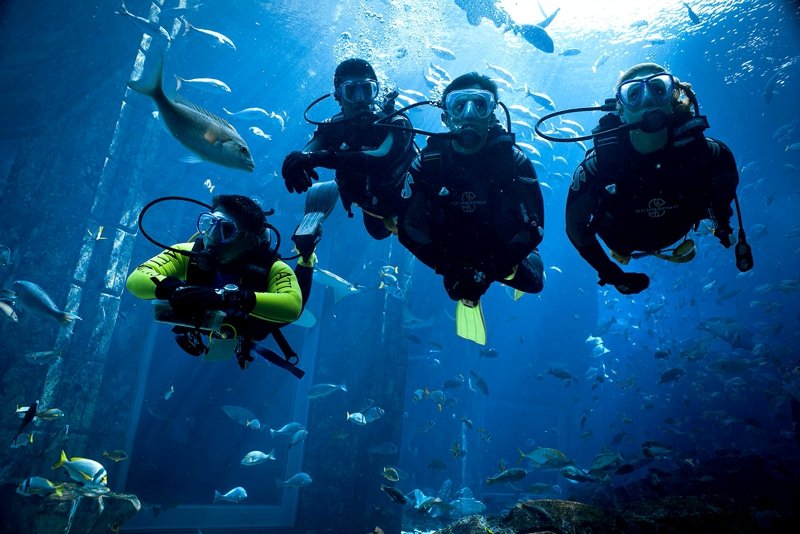 Photo: Diving with sharks
4. Walking with sharks - it's possible to look at the sharks and even not to get wet :) You even do not need to know how to swim, cause you'll wear a special suit and helmet while walking along the predators.
Duration:
25 minutes (3 times a day).
Price:
590 dirhams ($160).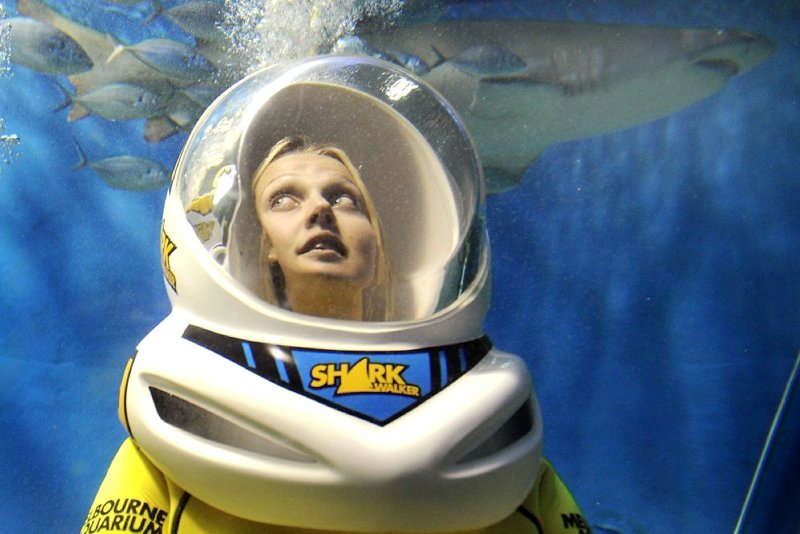 Photo: Walk with sharks
5. The Ocean School Program - an excursion in Arabic or English tells about the mysteries of underwater depths and its inhabitants. It is held for schoolchildren and teachers for free.
6. Feeding stingrays - every day at 1:00 am, 6:00 pm and 10:00 pm you can see how the stingrays are fed - the spectacle is free and exciting.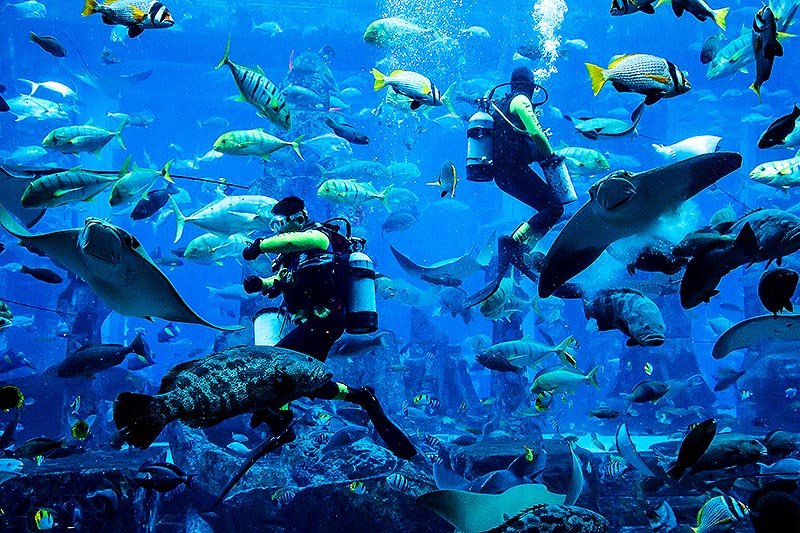 Photo: Feeding stingrays
Underwater Zoo
The entrance to the Underwater Zoo is located on the third floor. It is divided into three zones: Living Ocean, Rainforest and Rocky Shore. In each zone you will find an amazing species of animals and fish, including: penguins, seals, nutria, catfish, moray eels and others. The crown of the Underwater Zoo is the King Krok - one of the largest crocodiles in the world.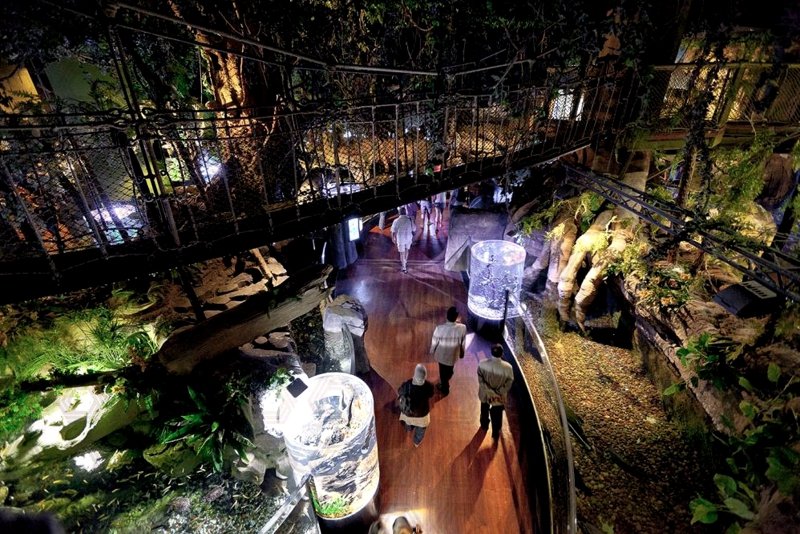 Photo: Underwater Zoo
Ticket price
• Entrance to the Aquarium tunnel and Underwater Zoo costs 55 dirhams ($15).
• Combined ticket (Aquarium + Underwater Zoo): adult - 70 dirhams ($19), children - 55 dirhams. Children up to 3 years old - free of charge.
• Platinum ticket (Aquarium + Underwater Zoo + "backstage" trip and coupon to the gift shop) - 80 dirhams ($22).
• Diamond ticket (Aquarium + Submarine Zoo + "backstage" trip and coupon to the gift shop + feeding fish) - 90 dirhams ($24.5). It works only during the feeding hours.
• Full package (Aquarium + Underwater Zoo + "backstage" trip and coupon to the gift shop + feeding fish + glass bottom boat ride) - 110 dirhams ($30).
Note:
it is better to buy the ticket on the 3rd floor at the entrance to the Underground Zoo - here are no queues and all kinds of tickets are sold, and on the first floor only expensive combined tickets can be bought. Aquarium must have been using the "wow effect" here.
How to get here
• By metro (the nearest station is Burj Khalifa/Dubai Mall). Then take the free Shuttle-Bus No. 25.
• By bus No. 27 from the old part of the city (departs from the Deira Gold Market, every 15 minutes).
• By taxi or by renting a car.
Things to do here
3
Dubai Aquarium & Underwater Zoo on the map
Location: The Dubai Mall in Downtown.
Open hours
from Sunday to Thursday from 10:00 am to 22:00 pm; from Thursday to Saturday from 10:00 am to 11:59 pm.
Contacts
Phone: +9714485200