Adventure Rating in Dubai
TOP-79 adventure's step-by-step
recipes & lifehacks
How to go buggy driving in the desert in Dubai
How to try sandboarding on sand dunes in Dubai
How to go to a desert jeep safari in Dubai
How to get on the top of the Burj Khalifa in Dubai
How to admire the singing fountain in Dubai
How to see a skeleton of a gigantic 155,000,000-year-old dinosaur in Dubai
How to take an abra boat in Dubai
79 things to doin Dubai
The world's best dolphinarium Dolphin Bay is a modern dolphin training centre with an artificial tropical ecosystem.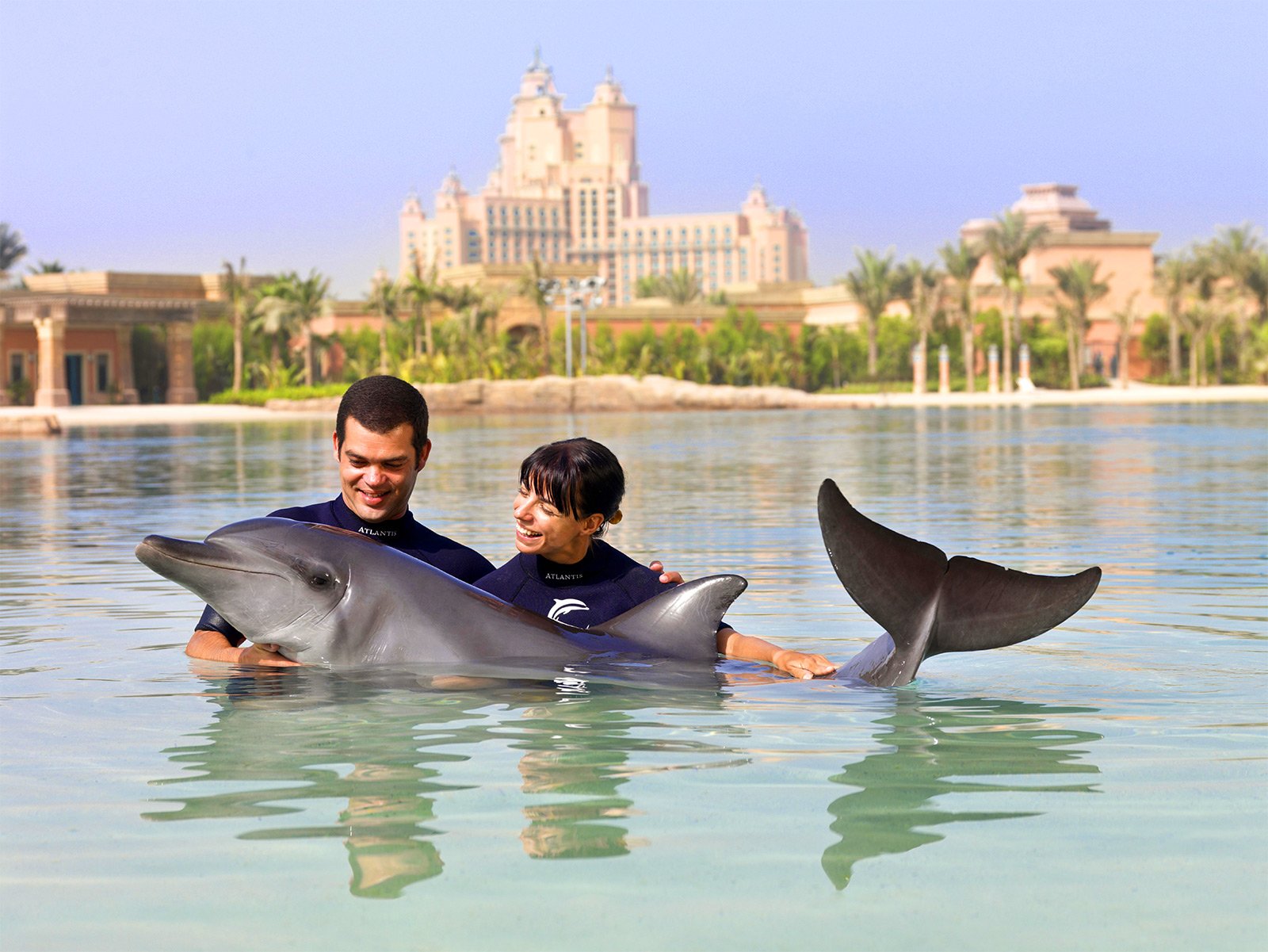 In 2009, the first Middle Eastern dolphinarium Dolphin Bay was opened in Dubai. This sea complex with an area of ​​5 thousand square metres accommodates 1250 visitors. Here you can see the performance of trained fur seals and bottlenose dolphins, watch the show of exotic birds in the Creek Park, wander in the mirror labyrinth, go to the 5-D cinema.
In an everyday show "Dolphin and the seal", starting at 11:00 a.m. and 03:00 p.m. you can watch dolphins and seals juggle, draw, jump through hoops, dance and perform other tricks. During evening hours, the appearance of an illusionist is added to the standard program of the dolphinarium.
For those who would like to swim and play with the dolphins, there is a separate short program. Tickets for it must be booked in advance at
the official dolphinarium website
or by phone. Exotic birds are also shown three times a day: at 12:15 p.m, 04:15 p.m, and 07:15 p.m.
Cost
A regular ticket for a dolphin show costs 120/100 dirhams for adults and 70/50 for children from 2 to 11 years old. VIP tickets cost 140/120 and 100/80 dirhams respectively.
Children's ticket for the "Show of Exotic Birds" will cost you 30 dirhams, whilst the adult ticket's price is 50 dirhams.
How to get
You can get to the dolphinarium by the green branch line to Dubai Health Care City or by bus to Creek Park Main Gate.
The Dolphin Bay on the map
Location: Atlantis The Palm
Open hours
every day from 10:00 to 18:00
Contacts
Phone: +971 4 426 0000