Adventure Rating in Chernobyl
TOP-14 adventure's step-by-step
recipes & lifehacks
How to feed giant catfish in Chernobyl
How to see the giant secret station Duga-radar in Chernobyl
How to see animals living in the ghost town in Chernobyl
How to climb to the secret station Duga radar in Chernobyl
How to climb up the the roof of 16-story building in Chernobyl
How to climb onto the abandoned port crane in Chernobyl
How to see ghost houses in the exclusion zone in Chernobyl
14 things to doin Chernobyl
Take local guide
You can visit this place in one of our tours.
Choose
One of the few sixteen-story buildings built in Pripyat. if you rise up here, you can see the city as on the palm of your hand.
Performed in the style of Soviet architecture, a tall sixteen-storey house with a huge symbol of the USSR on the rooftop was built specifically to dispose the highest party ranks of the Soviet Union in
Pripyat
.
Today, the skyscraper is completely devastated. Stairs without railings, rare pieces of furniture, faded books on the floor, elevator shafts without elevator doors - in general, the most post-apocalyptic coloring.
Things to do here
1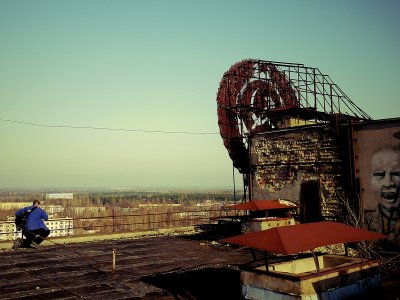 Climb up the the roof of 16-story building
From one of the highest Pripyat building's top you can see all the ghost-city.
FREE
12 Know more things to do?
Share your ideas of what to do in Chernobyl with other travellers — together we'll make our travellings more interesting!
USSR 16-story building on the map
Location: Pripyat