Try candies in Candylicious
#43 of 74 things to do in Dubai
Do you like sweets? You definitely have never seen so many tasty things in one place! There is a place in Dubai, where table delicacies of the whole world are collected. Actually, Candylicious is a shop. However, we cannot bring ourselves to call it so. Hundreds of metaphors come to mind immediately: Sweet Kingdom, Central World Sweet Shop, Paradise for those with sweet tooth and so on.

In area of three thousands square meters, you will even be able to lose way among huge hard candies, fresh cakes, kilogram lollipops and delicious pastry. Incidentally, in addition to Arabian sweets, unsurpassed nut pastry from Turkey, Hello Kitty chocolate from Japan, chocolate bars with chilly pepper and corn from Mexico, several dozens of ice-cream types from Italy are presented here. Russia presented "chocolate caviar".

Walking in Candylicious, you will see yet another attraction: chocolate tree decorated with lollipops, bright hard candies and striped boiled sweet of impressive sizes.
Where to do?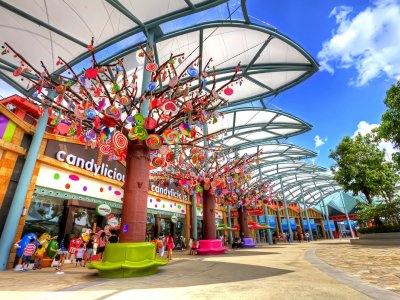 Candylicious
Candylicious is a dream of those with sweet tooth, a shop, where you can proverbially have your cake and eat it too.
22
Dubai