Admire the singing fountain
#5 of 74 things to do in Dubai
The singing and dancing Dubai Fountain deserves its renown as one of the largest and most popular fountains in the world. The unique spectacle of light, music and water makes your heart go throbbing. Jets of water dance to the accompaniment of various modern and classical music. For every song the fountain is shooting various figures, creating a unique magical show.

On average, it takes two to three months to produce a new show.
Where to do?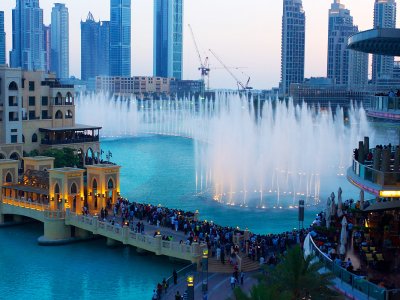 The Dubai Fountain
The world-famous Dubai Fountain astonishes with its unique and impressive light and musical shows.
70
Dubai
Open hours: shows run daily from 6 pm till 11 pm at half-hourly intervals

How much?
admiring the Dubai Fountain is absolutely free of charge. The shows run daily from 18:00 to 23:00, every 30 minutes. The duration of each show is usually 2-4 minutes.
Tips and hints
you can enjoy the singing fountains from the neighboring cafes, for example, Friday's in Dubai Mall, yet the best place to watch the show is right at the fountain.