Al Marmoom Camel Racetrack
#12 of 74 places to visit in Dubai
Al Marmoom Camel Racetrack is located next to Dubai — Al Ain Road. Camel racing is a tribute to Arab tradition. It takes place in Dubai annually.

Anyone can visit the event. An entrance to the racetrack is free. One may get to the Al Marmoom Camel Racetrack by taxi and also follow camels from start to finish watching the most exciting moments of the race.
Things to do here
1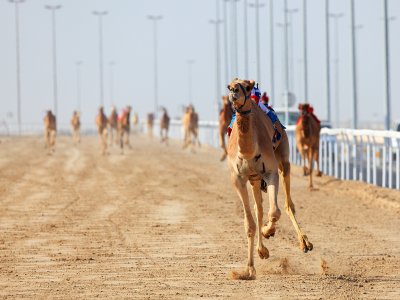 Eugene Krasowski
See Camel Races
Camel race controlled by robots — another entertainment of Dubai residents. You have to see this!
How much:

free
31
Al Marmoom Camel Racetrack Guest
Share an idea!
Have an adventure or entertainment idea that we don't have yet? Share your idea with other adventure-seekers!
−
Al Marmoom Camel Racetrack on the map
Location: Al Ain-Dubai Road, Al Marmoom
Open hours
Sunday to Thursday from 07:30 to 13:00
Contacts
Phone: +971 4 832 6526