Ski Dubai: The Ski Resort in the Desert
#21 of 74 places to visit in Dubai
Ski Dubai offers everything necessary for winter activities. Entertainments are for everyone: adults can ride snowboards, skis or toboggans (runnerless sleds), children can enjoy special slides for skiing and sledding or a large snow cave, where you can play hide-and-seek. The area of ski resort is over 20 thousand square meters. The building can accommodate 1,500 guests at once.
Things to do here
1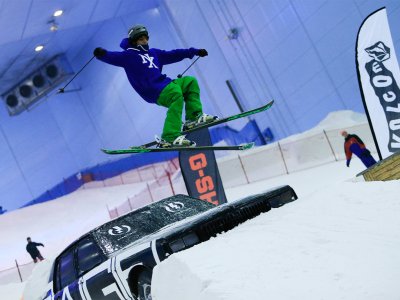 Alex Like
Take a ski ride
As it turns out, you can find real snow even among the sands of Arabian Desert. Participate in traditional winter amusements at the Ski Dubai.
How much: from

180
17
Ski Dubai: The Ski Resort in the Desert Guest
Share an idea!
Have an adventure or entertainment idea that we don't have yet? Share your idea with other adventure-seekers!
−
Ski Dubai: The Ski Resort in the Desert on the map
Location: Sheikh Zayed Rd
Open hours
Sunday - Wednesday from 10:00 to 00:00; Thursday from 10:00 to 01:00; Friday and Saturday from 09:00 to 01:00
Contacts
Phone: +971 800 386