See Camel Races
#8 of 74 things to do in Dubai
A popular sport in Dubai gathers a lot of curious spectators on the Camel Racetrack every year. Camel racing is not only an exciting event, but also a profitable business. You can see this event absolutely free of charge, like all residents and guests of the UAE.

Camel races are held annually in the period from late October to early April, on Fridays and Saturdays. It is an amazing event. Only «selected» camels, grown in special conditions, are admitted to the race. The cost of one camel may vary from about one million dollars. A camel has to run distance of a few kilometers as quickly as possible.

It looks very funny: a few dozen of camels rush, accompanied by an even greater number of cars, driven by owners or curious onlookers who want to know all details of the race. Owners control camels remotely via shock absorbers and GPS tracking system. A huge clumsy animal accelerates to 60 kilometers per hour — just imagine!

The winner gets the main prize — it may be gold, a car or a million dollars. Only the winner is not a camel rushing to the finish line, but its owner.
Where to do?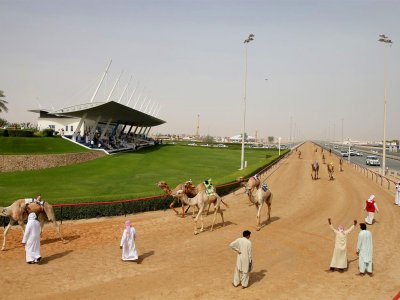 Al Marmoom Camel Racetrack
These races are a deep-rooted tradition. Today, camel racing — is not only exciting, but also very profitable business.
28
Dubai
Location:
Al Ain-Dubai Road, Al Marmoom
Open hours:
Sunday to Thursday from 07:30 to 13:00
Phone:
+971 4 832 6526
Official website:
http://dcrc.ae