See murales
#8 of 26 things to do on Sardinia
In a small villages in Sardinia especially popular murales, or wall painting . Originated it in the 60s of the last century, and local artists has been used as a means of expressing their dissatisfaction with the policy as the Italian authorities and the heads of the world's superpowers. Since murales was for the Italians the opportunity to share their thoughts, talk about their lives, and for travelers - a unique solution for immersion in the life of the local people and learn about their culture.

To date, only Orgosolo has more than 300 works. This tradition is also present in other towns of Sardinia - San Sperate, Serramanna and Villamar, Carbonia, Iglesias and others.

Walking around the city, where every house is painted in its style and tell its own story, you forget that you are in distant overseas countries, because you learn all about the life and traditions of the town and can be a part of it, even if only for a few days.
Where to do?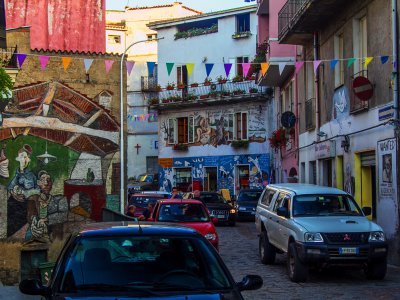 Orgosolo
City, hidden in the mountains, is known for its wall paintings, which adorned every house of this vibrant and unique place.
21
Sardinia
Location: Province of Nuoro