Climb to the Monolithos castle
#5 of 21 things to do on Rhodes
Near the village of Monolithos (70 kilometres from the capital and 30 kilometres from Cape Prasonisi) you will see an abandoned castle Monolithos. Use steep stone staircase and reach the top of the hill.

On the top of the hill, among the ruined walls of the castle, you will see the magnificent panorama of the hills and the islands in the Aegean Sea.

At the foot of the hill are a parking lot and a cafe where you can relax.
How to do?
1. You can get to the castle on a rented car, there is a free parking at the foot of the mountain.
Where to do?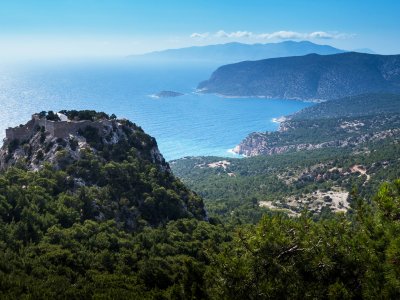 Monolithos Castle
Castle merged with the hill, on which it is located. Now here are only ruins from the castle, but here you can still find a breathtaking view of the Aegean Sea.
21
Rhodes