Saint Nikolas church
#6 of 30 places to visit on Crete
Saint Nikolas church is located on the west side of the beach of Georgioupolis, its snow-white facade, like a beacon for sailors, invites all travelers seeking solitude, in its walls. But to get to it, you can either swim, or go on rough spit that stretches from the coast a few hundred meters.

The Saint Nikolas churchwas built in memory of the dead sailors, its name is associated with St. Nicholas, who is considered the patron saint of sailors.

Near the church is thickened clean air, and you can feel even a little dizzy. Near the church you can also see magnificent views.

Inside the Saint Nikolas church can be not more than 10 people, its room is very small.
Things to do here
1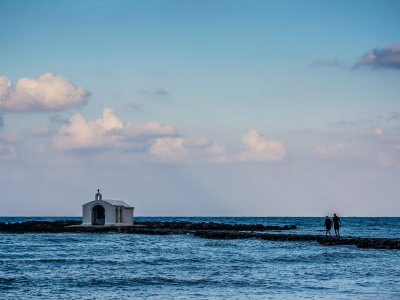 Guest
Share an idea!
Have an adventure or entertainment idea that we don't have yet? Share your idea with other adventure-seekers!
−
Saint Nikolas church on the map
Location: Georgioupoli