Matala beach
#13 of 30 places to visit on Crete
Matala Beach is a fabulous place, it is a closed bay, surrounded by rocks, which opens only one site where you can see the island Paximadia.

Here you will find sandy and pebble beach where you can completely surrender to the power of laziness and have a good rest. And if you want extreme, you can look at caves carved in the rocks at the beach - in the 60s of the last century, they became a hippie habitat. Once upon a time there lived such legends as Cat Stevens, Bob Dylan and Joni Mitchell.

On the north side of the Matala beach is a cave, where lovers of extreme sports jump right into the water.

On the Matala beach you can even find shops and stalls where hippie sell their handmade things, in the evening they often arrange noisy parties, and you can join them.
Things to do here
1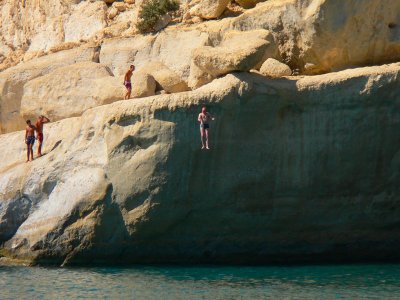 Guest
Share an idea!
Have an adventure or entertainment idea that we don't have yet? Share your idea with other adventure-seekers!
−
Matala beach on the map
Location: Matala village