Glyka Nera Beach
#12 of 30 places to visit on Crete
Glyka Nera beach is on the south coast of Crete in the Libyan Sea. The narrow coastal strip has neither a source of shade for visitors, so here you can always rent a beach chair and umbrella.

Near the beach flowing fresh water source from which you can get a drink of water or to wash off the salt water.

The beach has pebble and lie on it is not very convenient, so you need to stock up on comfortable sun beds.

Because of its remoteness from the city, here are rarely drop in tourists, so this place is very secluded and incredibly soothing.
Things to do here
1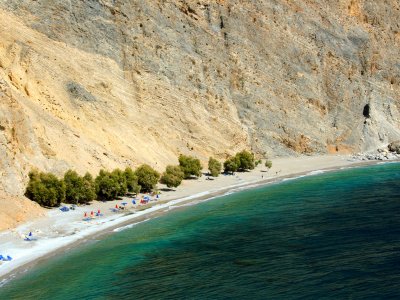 Guest
Share an idea!
Have an adventure or entertainment idea that we don't have yet? Share your idea with other adventure-seekers!
−
Glyka Nera Beach on the map