Sunbathing on a secluded beach Glyka Nera
#21 of 30 things to do on Crete
On the southern coast of Crete is lost among the rocks and cliffs pebble beach Glyka Nera. There are always very few people, although in recent years it is gaining popularity due to its distance from the bustling cities.

Getting to the beach is possible by car, on foot along mountain trails from the surrounding villages of Loutro and Hora Sfakion (slightly tedious), or on boat from the nearby Sfakia and Loutro. The boat departs at 10 am, you can return back on it at 4 pm.

The only disadvantage of the beach - here you can not escape from the sun, so take a sunscreen and an umbrella. On the beach you could buy an umbrella rentals.

On the beach flowing fresh water spring, where you can drink the purest water.
Where to do?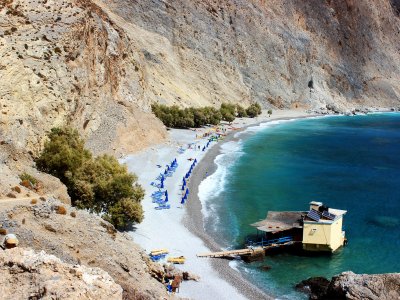 Glyka Nera Beach
Hidden away from the prying eyes of rocks and cliffs, Glyka Nera beach is considered one of the most beautiful in the world due to its well-groomed and close freshwater supply.
10
Crete