Feed the wild geese and ducks near the lake Kournas
#13 of 30 things to do on Crete
Kournas lake is known not only for its crystal clear waters, mountain scenery and interesting entertainment, but also for wildlife, for which there are all conditions for a hearty and comfortable life.

Some of these residents are wild geese and ducks that live in the bush near the lake and are very fond of begging travelers for some yum-yum :) For this they will swim gracefully on the lake next to you, so that you have time to make beautiful pictures.

Under every bush you can find laying eggs, there is no hunt for them here, so the ducks and geese feel completely safe.

But do not feed the ducks and geese bread, it may harm them. It is better to prepare in advance and buy feed specially for birds.
Where to do?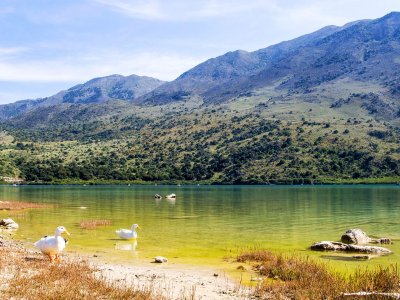 Kournas lake
Beautiful freshwater lake surrounded by a mountain landscape, creating a special atmosphere of seclusion and isolation from the rest of the world.
42
Crete