Drive the scenic road Koksare-Preveli
#14 of 30 things to do on Crete
From the village Koksare to Preveli monastery lies the path about 40 kilometers long. It is easiest to overcome it by car, because the road runs through the famous Kourtaliotiko Gorge.

Start your way from the town of Rethymno. Moving to the south and follow the signs, you will reach the Armeni village. At 21 km you will have to roll to the Kourtaliotiko Gorge. In a few kilometers after that you will see Koksare village. The gorge starts here.

While driving, do not forget to stop at the observation decks, there are descents down. Along the way you will see the Church of St. Nicholas, waterfalls and streams, and rocks in some places are so close to each other, that form a kind of tunnel.
Where to do?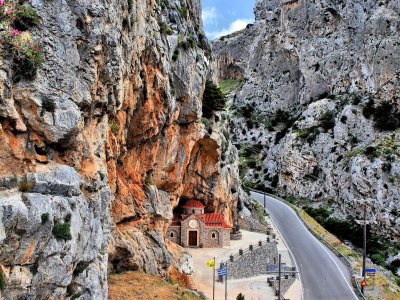 Kotsifos Gorge
If you want to reach this picturesque gorge, you need to overcome a long way through another famous and marvelous Cretan gorge.
14
Crete