Take a skydive
#48 of 74 things to do in Dubai
In Dubai, you will be offered all kinds of entertainments to any taste. Sky diving above The Palm Jumeirah island became one of the most popular adventures among guests of the Emirates.

If your sky diving experience is sparse or non-existent, you will be offered a jump in tandem with the instructor. The preparation is simple and will not take long. Such adventures leave lifelong memories!

Only a minute of free falling and five minutes of gliding with opened parachute canopy. However, you can believe that this time will be enough for you to get an eyeful of wonderful futuristic landscapes of the Emirate of Dubai and, most importantly, see the famous island The Palm Jumeirah.
Where to do?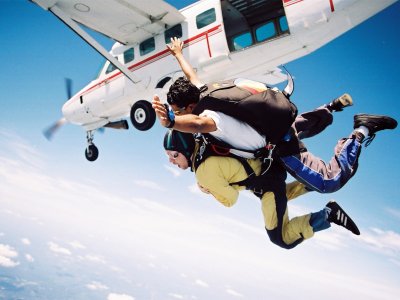 Skydive Dubai Air Club
Skydive Dubai offers such extreme entertainments as a sky dive in tandem with the instructor or unsupervised.
20
Dubai
Location:
Al Sufouh - Dubai
Open hours:
Monday - Thursday from 08:00 am to 04:00 pm, Friday - Saturday from 10:00 am to 06:00 pm
Phone:
+971 4 377 8888
Official website:
http://www.skydivedubai.ae
How much?
cost per skydive is 1999 dirhams or nearly $540