Visit the place where two oceans meet
#10 of 14 things to do in Cape Town
Two hundred kilometers away from Cape Town there is the famous cape – the southernmost point of the African continent.

Getting to Cape Agulhas, you will see the place where the two oceans meet. Of course, there is not an apparent difference between the waters of the oceans. Yet, it is the generally established boundary between the Indian and the Atlantic oceans.

This place has witnessed many a shipwreck. Strong winds and the collision of the warm Agulhas current with the ice-cold Antarctic Circumpolar current contribute to the emergence of frequent storms. The height of the waves can reach more than thirty meters. Shipping in these waters is also dangerous for the sandbar that goes into the sea for 250 kilometers.

Watching the raging waters of the oceans, you cannot help marveling at the strength and power of this element, fascinating and dreadful at the same time. When you realize that you are standing at the extreme point of the continent, and see the border between two oceans, it fills you with freedom and rapture.
Where to do?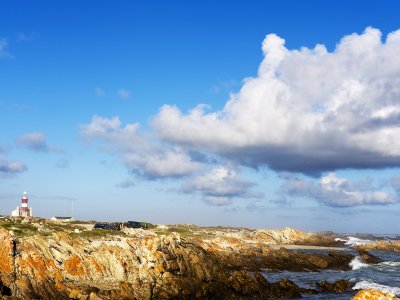 Cape Agulhas
Cape Agulhas is famous as the southern tip of the African continent and the meeting point of two oceans.
12
Cape Town