Take the cableway to Table Mountain
#8 of 14 things to do in Cape Town
A visit to Cape Town would be incomplete without reaching the top of this miracle of nature. Table Mountain is one of the iconic landmarks of the city and the unique natural sight of the country.

The mountain has a flat top that looks like a table and explains its curious name. The height of the mountain is 1086 meters, so foot climbing to the top is suitable only for the most physically fit tourists. And everyone else can make the ride by the cableway, which, for all the time of its existence, has transported more than sixteen million passengers.

You will travel in a round rotating cabin with large windows. Thus, on the way to the top you will enjoy the ocean view, panoramic views of Cape Town and at a distance you will see the famous Robben Island.

At the last stage of the journey to the top the cable car rises almost vertically, and here it is - the top of Table Mountain. A walk on the mountain is a sheer pleasure! Going by the mountain paths you can meet strange animals and amazing birds. From the height of the mountain you can see an incredible scenery and many local attractions. Don't miss the chance to buy souvenirs in the small gift shop.

Cableway opening hours: from 7:00 to 17:00 and from 9:00 to 19:30 depending on the season.
Where to do?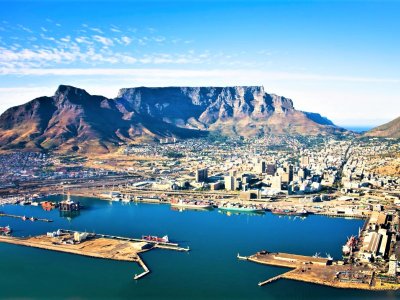 Table Mountain
The majestic Table Mountain is the iconic landmark of Cape Town and a decorative element on the city flag.
17
Cape Town
How much?
the cost of a two-way ticket to the cableway is 195 Rand.