Visit Cagliari Cathedral
#14 of 26 things to do on Sardinia
For St. Mary's Cathedral leads a long staircase, where you can relax in the evening, taking with you a snack and good wine. The long ascent to the cathedral is worth it - it is a magnificent example of Romanesque-Gothic architecture, which blended several styles, and the eclecticism of the cathedral gives its flavor.

Inside the cathedral you will find frescoes, columns, arches. Especially noteworthy altar, near which is the entrance to the crypt, where you will see sculptures of kings.

 On Saturdays in the cathedral perform classical and religious music, because of the excellent acoustics of this performance is particularly impressive.
Where to do?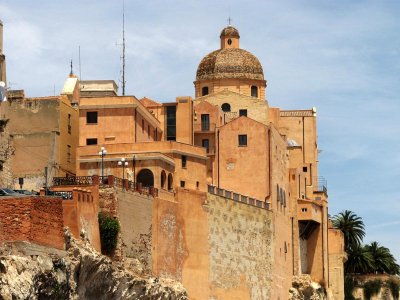 Cagliari Cathedral
The luxurious building, to which leads the magnificent staircase, located on the Piazza Palazzo, and is the most beautiful place Cagliari.
12
Sardinia
Location: Piazza Palazzo, 4
Open hours: from 7 am to 8 pm

How much?
free.
Tips and hints
women will need to cover shoulders and legs before admission.