Ride in a boat on the canals of Milan
#14 of 30 things to do in Milan
If If you mainly associate Leonardo da Vinci with Mona Lisa, The Last Supper, flying machines and anatomical studies, in Milan there is another thing, created by this genius - Navigli District.

There are five channels here and you can take sightseeing boat that offer charming views of the bridges, art shops along the canals, flea markets, Italian restaurants and boutiques.

The most beautiful area of ​​the channel is Naviglio Grande, it is especially beautiful in the late afternoon, when the sun's rays calling transform it into shimmering wonder.

To get to the Naviglio Grande, you can take the metro to the station Porta Genova and tram.
Where to do?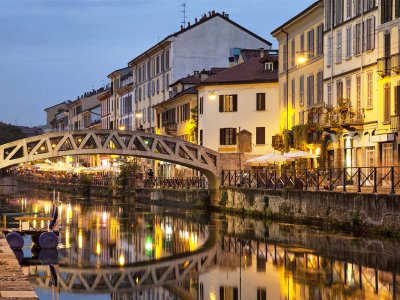 Naviglio Grande
There is Navigli district in Milan, one of the most picturesque areas of the city with channels designed by Leonardo da Vinci.
16
Milan
How much?
from €8. You can buy tickets for the cruise both on the channel and on the Piazza del Duomo.