Climbing on the fortress of Spinalonga
#2 of 30 things to do on Crete
Spinalonga Island is surrounded by a fortress, protecting it from attacks that are on the island no one is afraid. Became a real prison for leprosy patients, the island has long been considered cursed, and all avoided it until a cure was found from this dreaded disease.

At the highest point of the castle you will see a statue of "Floating Man" - a symbol of suicides that have been on the island for many people the only way to deal with their illness.

Climb to the highest point of the fortress - here you can take a break from walking around the island, take a breath of fresh air, looking at the beauty of Crete.
Where to do?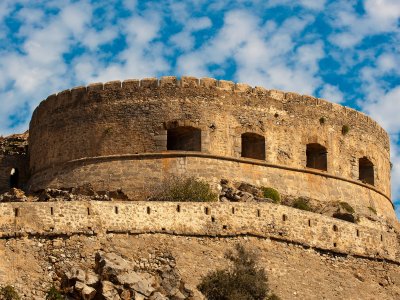 Fortress of Spinalonga
Built to defend the island, the castle turned it into an impregnable area, but now there is just a ruin, from which you can see the bay and Crete.
28
Crete
Location: Spinalonga island
Open hours: from 9:00 am to 7:00 pm

How much?
€8 for the entrance to the island.