Hang the lock on the bridge of lovers
#13 of 26 things to do in Kiev
This small pedestrian bridge that connects people's hearts has so many names as Park Bridge, Lovers' Bridge, Devil's Bridge, Suicide Bridge, Paton's small masterpiece. But whatever it was called it still fulfills its mission. Here hundreds of locks hang, as a symbol of vows to love each other forever.

The bridge was very damaged after the revolution in 2014, it was bombarded with burning tires blocking the way for police officers who wanted to pass through it to the Hrushevskiy Street and the European Square. More than three meters of the wooden covering of the bridge burned down, but in 2015 it was reconstructed and now anyone can easily hang here the strong metal symbol of love.
How to do?
1. Go to Mariinsky Park (Arsenalna metro station). Head towards the city center, to get to Maidan Nezalezhnosti square, you will need to pass along this little bridge.
2. Buy a lock beforehand, you can paint it or write your names on it.
3. Securely fasten the lock on the railing of the bridge, swear to each other in eternal love and do not forget to take the key with you.
4. By the way, from here you have an excellent view of the city center, so you can stand on the bridge for a little, and then go to the Dnipro River (that's where you need to throw out the key so that the vow came into force).
Where to do?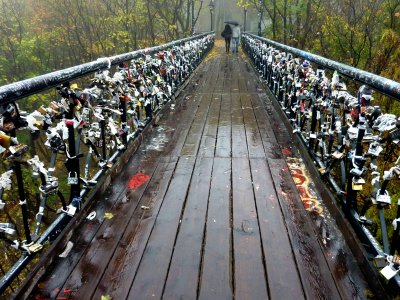 Location: crosses the Petrovska alley and connects the City Garden and Khreshchatyk Park.