Kievan Rus Park
#10 of 26 places to visit in Kiev
Park Kievan Rus is an exact copy of the city of Vladimir (Detinets Kiev) on a scale of 1:1 with nine-meter shafts, fortress walls, watchtowers, manors, trade shops of craftsmen and churches.

Here you can shoot from the bow, learn horse riding, try the Kiev soup, as it was prepared in the old days, take part in various master classes, watch horse performances, knight battles, listen to ethnic music and immerse yourself in the atmosphere of antiquity.
Things to do here
1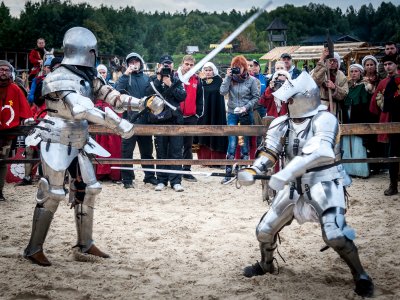 Nika
See the joust
Go back in time and see how in the old days brave knights fought for their honor, dignity and women's hearts.
How much: from

150 hryvnias
1
Kievan Rus Park Guest
Share an idea!
Have an adventure or entertainment idea that we don't have yet? Share your idea with other adventure-seekers!
−
Kievan Rus Park on the map
Location: Kiev region, the village of Kopachi, Lenin Street 17-a.
Open hours
Daily from 10:00 am to 09:00 pm.
Contacts
Phone: +38044 461 9937