Hydropark
#15 of 26 places to visit in Kiev
The park is located on the islands right in the middle of the Dnipro river. Earlier locals used to call it the Kiev's Venice, as it is surrounded by quiet bays, where you can sometimes see small boats sailing with vacationers.

The place is ideal for a variety of recreation. You can sunbathe on the beach or fry shish kebabs in one of the arbors right under the trees. You can rent a boat or a catamaran and swim along the Dnipro river, play football, volleyball, tennis, rugby, paintball. There are also a lot of water attractions, bungee jumping and a whole town with training apparatus.

There is also an amazing museum called "Ukraine in Miniature" where you can see all the most famous places, architectural structures and monuments of Ukraine in a small size.
Things to do here
1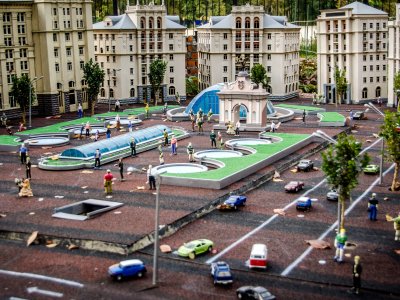 Yum Bum
See Ukraine in miniature
Do you think it's impossible to see the whole Ukraine in one hour? Easily! Just visit the museum "Ukraine in Miniature".
How much: from

25
4
Hydropark Guest
Share an idea!
Have an adventure or entertainment idea that we don't have yet? Share your idea with other adventure-seekers!
−
Hydropark on the map
Location: it is located on the Venetian and Dolobetskiy islands between the Dnipro river and the Rusanivsky Strait in Kiev.
Open hours
Life rages here all day and night: in the daytime on beaches and water, and at night at various discos and clubs.