Learn your future from the fortune teller
#8 of 12 things to do in Marrakesh
The area of ​​Jemaa el-Fnaa is known for the fact that you can learn your future from the fortune tellers.

Perhaps this is just a skillful trick of a professional mentalist, because it is generally known that magic does not exist, as well as people with paranormal abilities. But who knows? ;)

Here you stroll through the Jemaa el-Fnaa square, you approach the fortune teller and he tells you something about your fate, you say "thank you" and proceed. Then the whole day you feel deja vu at every step and in the evening you remember the words of the seer which turned out to be a purest truth!
Creepy, right? :)
How to do?
1. Come to the square Jemaa el-Fnaa (better in the evening).
2. Searchers are mostly located on the floor under umbrellas.
3. Check out how good they are!
Where to do?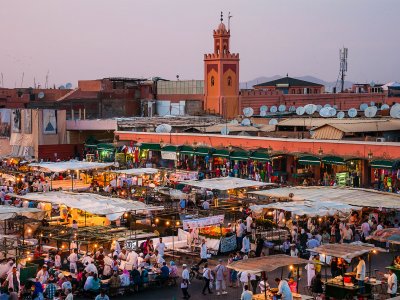 Jemaa el-Fnaa
The famous Jemaa el-Fnaa square is known all over the world not only as the main sight of the city, but also it's frightening history.
16
Marrakesh
Location: Derb Chtouka