Try harira
#10 of 12 things to do in Marrakesh
Be sure to visit one of the city restaurants to taste the exquisite invention of Moroccan cuisine - hariru soup.

Soup should be tried at least because of a curious combination of ingredients: taduria - a special thickening mixture of water and flour, tomato paste, lentils, Turkish chickpeas (something like a nut and bean in one), onion, rice, broken eggs (without shell itself), celery, paslin, coriander, saffron, ginger, hot pepper, a couple spoonfuls of olive oil and lemon.

One can argue for a long time about where exactly the best harira is being prepared, but these disputes will be groundless by the fact that all Moroccans without exception treat cooking and the quality of food very seriously.
How to do?
1. Come to Jemaa el-Fnaa - here in the restaurants at the square you will find a thick red soup hariru.
2. Check out this yummy.
Where to do?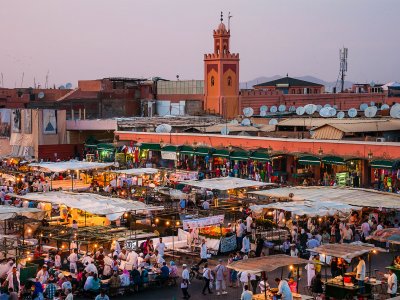 Jemaa el-Fnaa
The famous Jemaa el-Fnaa square is known all over the world not only as the main sight of the city, but also it's frightening history.
16
Marrakesh
Location: Derb Chtouka

How much?
A plate of harira will cost you 20 dirhams.