Climb the Campanile of the St. Mark's Basilica
#5 of 34 things to do in Venice
Bell Tower situated opposite the Cathedral of San Marco and the Doge's Palace. Its height is about one hundred meters, and you must take a lift for €8. Tickets are on sale in the building.

At the top of the Campanile is an observation deck and you will see all Venice — and narrow streets, and magnificent buildings, towers and peaks.
Where to do?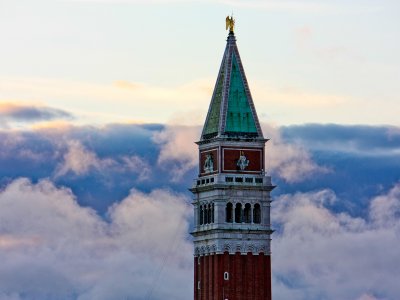 St. Mark's Campanile
St Mark's Campanile is the bell tower of St Mark's Basilica. The tower is about 100 metres tall and stands alone in a corner of St Mark's Square.
34
Venice
Location: St. Mark's Square
Open hours: from 9:45 am to 7:00 pm

How much?
entrance fee €8 plus €5 for the audio guide.
Tips and hints
download an audio guide in advance — so you can learn a lot of interesting details about the history of the Campanile for free.