Listen to Holy Masse in the basilica San Marco
#10 of 37 things to do in Venice
The famous San Marco basilica is opened for tourists from about 10:00 am. Till that time the basilica is opened for Venetians only who come here for a Holy Mass. The Mass is held at 7:00, 8:00 and 9:00 am and lasts for about half an hour. During this time, you will be able to enjoy the Mass itself with its beautiful singing and also to see the details of the outstanding cathedral.

After the Mass, you can linger and walk along the cathedral of San Marco almost alone.
Where to do?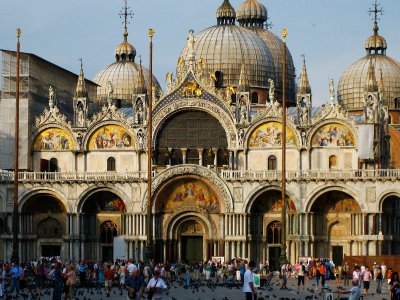 St. Mark's Basilica
St. Mark's Basilica is the cathedral church, a striking example of Italo-Byzantine architecture. Located on St. Mark's Square, near the Doge's Palace.
27
Venice
Location: St. Mark's Square
Open hours: from 9:45 am to 5:00 pm

Tips and hints
usually they try not to let tourists get in during the Mass so you should try to be inconspicuous in the crowd of Venetians.