Pay for a tile to support the construction of Big Buddha
#73 of 114 things to do in Phuket
The giant white marble statue of Big Buddha sitting on a mountain can be seen from any place in Phuket. Having climbed to the mountain top, you can admire the marvelous panoramic view of the island, with the air full of peace and mystery. One Thai legend has it, that a huge snake named Naga used to dwell here, another says that Buddha himself used to meditate on the mountain making it glow ethereally.

They started building the temple in 2002, with the construction process still being carried on. The government, the Royal Family members, citizens and tourists all took part in it. In order to contribute to the construction, you only need to pay for one tile that will eventually be built into the temple. You can choose from the small and big tiles – they cost 300 and 1000 baht respectively. You can write a cordial wish for yourself or your close people on the tile. To replenish your karma, you can also purchase a souvenir at a local shop or make an outright donation for the construction.
Where to do?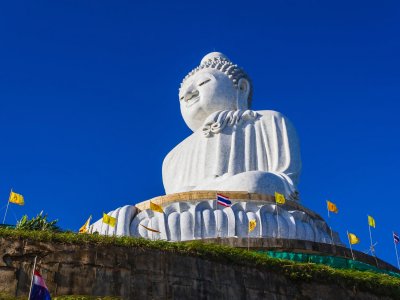 Big Buddha
The huge white marble statue of Buddha is no less impressive itself than the breathtaking view from the hill on which it is situated.
31
Phuket
Location: Soi Muang
Open hours: daily from 08:00 am to 08:00 pm