The Phuket Zoo
#2 of 114 places to visit in Phuket
Phuket Zoo is a perfect spot for a family vacation. The main attraction of the zoo is not just the multitude of exotic animals, but the daily shows with monkeys, elephants and crocodiles. 

Besides, you can take a memorable picture with the stars of the shows, and even the impressive and dangerous tiger. The zoo also has an oceanarium and a colorful bird park. 

If you want to catch all the shows in one day, try to come before 14:00.

Here's the shows timetable:


— monkeys: 09:00, 12:00, 14:30, 16:45

— crocodiles: 09:45, 12:45, 15:15, 17:30

— elephants: 10:30, 13:30, 16:00. 



From 9:00 till 17:30 you can also walk in the orchid garden, also part of the zoo's large territory.

 The admission price is 500 bats for adults and 300 bats for children.
Things to do here
1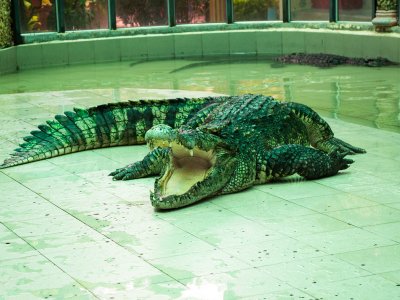 oddviser
Drag a crocodile by its tail
Face and conquer your fear — where else could you get away with dragging the huge crocodile with its huge teeth by its tail?
How much: from

200
12
The Phuket Zoo Guest
Share an idea!
Have an adventure or entertainment idea that we don't have yet? Share your idea with other adventure-seekers!
−
The Phuket Zoo on the map
Open hours
daily from 8:30 to 18:00
Contacts
Phone: +66 (0) 7637 4424