Try Thai foot massage
#26 of 114 things to do in Phuket
The feet have a lot of points, which are responsible for the internal organs. This is the best medicine for headaches and vascular disease.

During the session the active manual feet points will be carefully treated with special sticks. Also during one-hour session the aromatic oils will be applied that have a beneficial effect on the psyche. Foot massage will not cause embarrassment, it is held in a comfortable position for the visitors — sitting in a soft recliner.
Where to do?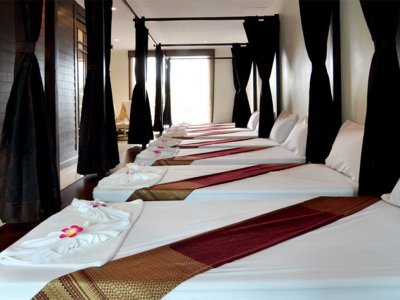 «Oriental Massage» Parlour
A great place to relax and enjoy — here you will be able to choose the procedures for health and beauty, suitable to you.
16
Phuket
Location:
88/12 Thailand Kata Rd Karon, Mueang Phuket District Phuket
Open hours:
daily from 10:00 to 23:00
Phone:
+66 76 330 918, 088 768 6136
Official website:
http://www.orientalmassagephuket.com
How much?
cost 300 baht per hour.
Tips and hints
there is a free of charge transfer in Kata and Karon areas.
You don't need to book it in advance. If you want to play it safe — book a massage on a partner site (select Foot Reflexology).