Surf on artificial waves
#6 of 114 things to do in Phuket
Surf House is a perfect place for those who want to learn surfing. With its smooth slide of water dropping down under a high pressure, the place is open to public from 10:00 am to 11:59 pm.

Here, everyone conquers waves in the order of first come first served, then they surf till they fall, then wait in the line again. During the day there can be up to 20 people (usually around 10-15) in the line, while in the evening the place is usually almost empty and you can surf to your heart's content.

Instructors will help newcomers to overcome the fear of the first wave as well as share valuable tips with advanced surfers. The instructor can support you with a special rope – with this kind of support it is easier to hold out on the board while you're still learning. You can celebrate your surf victories here in the outdoor bar or indoor restaurant, a place where local DJs often come to play.
Where to do?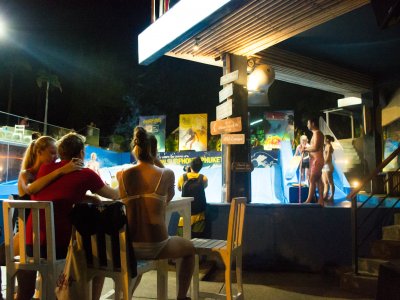 Surf House Phuket
It is a must-visit place where you can catch the wave in any weather, and also enjoy excellent cocktails.
19
Phuket
Location:
Kata Beach Road (4 Pakbang Road), Ban Kata
Open hours:
daily from 10:00 am to 11:59 pm
Phone:
+66 81 979 7737
Official website:
http://www.surfhousephuket.com
How much?
registration fee (first time only) is 200 baht. The cost of surfing is 800 baht for 1 hour, 2000 baht for 3 hours, 6,500 baht for the entire day, reservation of a lane for an hour costs 7,000 baht. The owners of Surf House membership cards have significant discounts (450 baht for an hour of surfing). Cocktails at the bar cost 250 baht (membership card holders have a 10% discount on the bar menu).
Tips and hints
try local mango margaritas – they are considered the best on the island.