Go to Big Buddha
#4 of 114 things to do in Phuket
Climb to the top of the observation deck to enjoy the amazingly beautiful views of the ocean and a large part of the island.

While the construction of the statue is still not complete, you can buy a marble tile and make a drawing or inscription on it. The tiles will be used for the lining of the statue, and your work will always be a small part of the Great Buddha.
Where to do?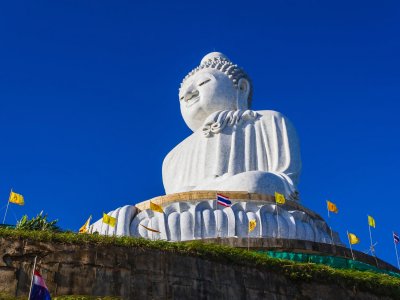 Big Buddha
The huge white marble statue of Buddha is no less impressive itself than the breathtaking view from the hill on which it is situated.
31
Phuket
Location: Soi Muang
Open hours: daily from 08:00 am to 08:00 pm

How much?
entrance to the temple and to the observation platform is free of charge.
Tips and hints
the best time to visit the place is at sunset. Do not forget to ask the monks to tie a lace for luck on your hand (a lace is tied on your hand and cannot be removed until it unties by itself).