See the panorama of the city from the Boboli Gardens
#2 of 36 things to do in Florence
The Boboli Gardens have a hill, offering unparalleled views of the surrounding hills, the Palazzo Pitti and the entire Florence. To get to the Garden of the Knights, the highest point of the park is difficult, but the view of the city is worth it, is not it? :)
Here, on a hill, is the Porcelain Museum (entrance to the museum is included in the ticket price in the Boboli Garden).
From here you can walk down to Viatollone and to get to Izolotto - pond with a copy of the fountain by Giambologna "Ocean", and from there to reach the south-eastern part of the park in Porto Romano.
Where to do?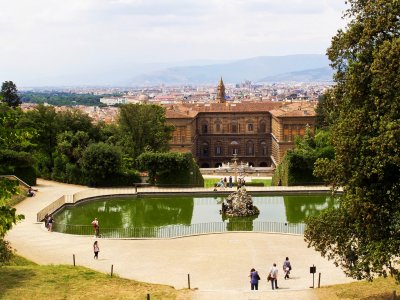 Boboli Gardens
Great sample landscape park, which became the prototype of the park of Versailles, and a favorite place of Fyodor Dostoevsky.
28
Florence
Open hours: from 8:15 am to 4:30-6:50 pm

How much?
€7 (entrance to the Boboli Gardens).