See the masterpieces in the Uffizi Gallery
#4 of 36 things to do in Florence
Uffizi Gallery is the number one in the list of the most visited galleries in Italy, there are many works by Michelangelo, Leonardo da Vinci, Raphael and Botticelli. Here goes the secret Vasari Corridor.

Among the mandatory Uffizi Gallery exhibits you need to see "Spring" and "Birth of Venus" by Sandro Botticelli, "Venus of Urbino" by Titian, "Madonna of the Goldfinch" by Raphael and "Madonna Doni" by Michelangelo.

You can visit the Uffizi Gallery on all days except Monday from 8:15 am till 6:50 pm.
Where to do?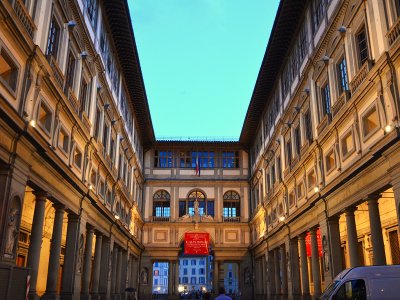 Uffizi Gallery
One of the most famous museums in the world and one of the main attractions not only Florence but also the whole of Italy.
16
Florence
Location: Piazzale degli Uffizi 6
Open hours: from 8:15 am to 6:30 pm

How much?
entrance costs €8.
Tips and hints
it is not necessary to book tickets in advance, queue moves quickly, and for reservation you have to pay double the cost of the ticket.

It is best to come in the morning when there are few people.