Climb to the top of the Mount Srdj
#14 of 25 things to do in Dubrovnik
You should definitely climb to the top of the Mount Srdj! It offers beautiful views of the Adriatic coast, Dubrovnik, and numerous islands to the horizon. When the weather is good, visibility reaches 60 kilometers - wonderfull views for a perfect selfie! :)

You can get to the top of the mountain by cable car, by car (you can rent a car here) or even on foot - there is a zigzag road that leads to the top, and this is probably the best way to enjoy the beauty of the Mediterranean nature. You can get to the pedestrian road leading to the Mount Srdj from the lowest embarkation point of the cable car.

The length of the path is 2 kilometers. Climbing lasts about 2 hours, descent takes about 45 minutes.
Where to do?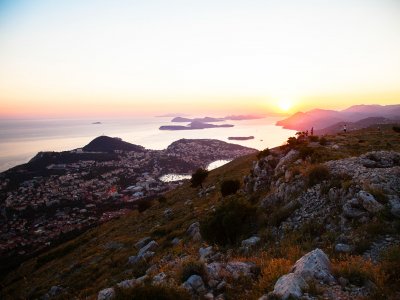 Srđ mountain
413 meters high mountain offers bird's-eye views of Dubrovnik and the Adriatic coast. There are two viewpoints, Civil War Museum, a restaurant and an amphitheater here.
48
Dubrovnik
Tips and hints
if you decide to go on foot, it is better to climb early in the morning or closer to the evening, to avoid the heat. And do not forget to put water in your bag!