Stradun (Placa) street
#3 of 25 places to visit in Dubrovnik
Stradun street (it is also called Placa) is the most famous street in Dubrovnik. It connects two main entrances to the Old Town, surrounded by a high defensive wall - Pile Gate (west entrance) and Ploče Gate (east entrance). The most popular city sights are located on this ancient street.
Things to do here
2

mila
Walk along Stradun
Take a walk along the main and best known Dubrovnik street - Stradun. 300 meters of this historical route pass through the entire Old Town.
How much:

free
47
Stradun (Placa) street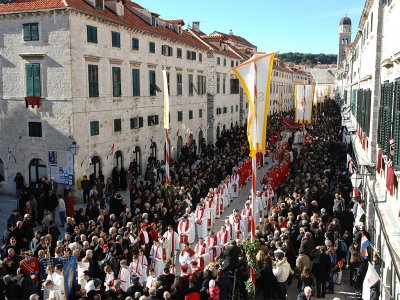 oddviser
Visit the Festivity of Saint Blaise
Every year on February 3 in the City of Dubrovnik you can take part in the ancient religious ceremony occasional to Saint Blaise's day.
How much:

free
11
Stradun (Placa) street Guest
Share an idea!
Have an adventure or entertainment idea that we don't have yet? Share your idea with other adventure-seekers!
−
Stradun (Placa) street on the map
Location: the Old Town
Open hours
24 hours