Dubrovnik Cable Car
#1 of 25 places to visit in Dubrovnik
The lowest embarkation point is located in the Old Town near the Ploče Gate. The upper one is at the height of 405 meters above sea on the peak of the Mount Srdj. The ride takes about 4 minutes. Tickets are available at the lowest embarkation point.
Things to do here
1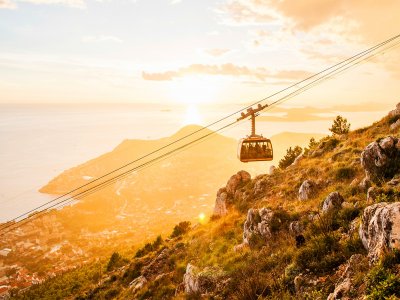 Eugene Krasowski
Ride the Cable Car
Be sure to ride the only cable car on the Adriatic coast and enjoy stunning views of the Old Town of Dubrovnik and the Adriatic Sea!
How much: from

70
60
Dubrovnik Cable Car Guest
Share an idea!
Have an adventure or entertainment idea that we don't have yet? Share your idea with other adventure-seekers!
−
Dubrovnik Cable Car on the map
Location: the king Petr Krešimir IV street
Open hours
from 9 am to 11:59 pm in summer and from 9 am to 4 pm and 9 pm in other seasons
Contacts