Visit an operating aircraft carrier
#8 of 66 things to do in Pattaya
A 182-meter long operating naval unit is a must-see! Will you ever have another opportunity to visit an 11-deck aircraft carrier with a 30.5-meter long beam?

The carrier was built in Spain, in 1994, and is fully equipped with modern ammunition and a superpower long-range air search radar. In case of a defense emergency, this aircraft carrier will serve as a flagship for the rest of the Royal Thai Navy and will carry out counter-air defense. Impressive, isn't it? It is also the biggest royal warship in the world: the members of the Royal Family are always present on board during short trips into the open sea. You can even stumble upon the dedicated Royal Suite on your tour round the immense interior of the warship.
Where to do?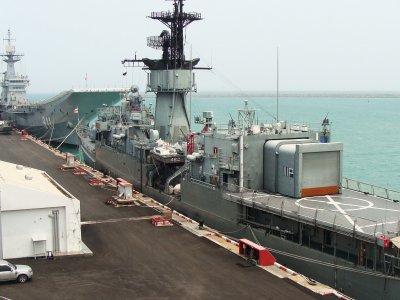 Sattahip Naval Base
An operating military base of the Thailand Navy. Here you can see huge warships, and even go on board if you obtain a special permission!
14
Pattaya
Open hours: daily from 08:00 to 16:00; except Wednesdays (closed from 08:00 to 12:00)
Phone: +66 (38) 43 85 47 62