Feed a Giraffe
#44 of 66 things to do in Pattaya
Are you fond of animals and willing to spend a night in the open air? Don't miss your chance – go to Khao Kheow Open Zoo. Tens of animals are living uncaged, without bars and enclosures, in its huge territory. Besides, here you can feed a giraffe straight out of your hands.

What does this giant feed on? At the zoo, giraffes are given beanstalks, but they will gladly eat carrots as well. You can buy food for the long-necked cuties right on the spot, beside the place they live in. However, you can save some money by first checking on the tents by the zoo entrance. Here they sell forage for all the zoo residents at a much lower price.

While feeding the giraffe, you can take a closer look at it and even stroke its warm, soft muzzle, since the visitors' platform is at the level of the animals' heads. This adventure will appeal to adults and children alike. You need just a bit of deftness to add a couple of amazing shots to your family album!
Where to do?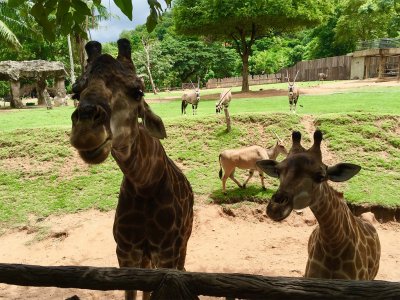 Khao Kheow Open Zoo
In this extraordinary zoo, not only can you see uncaged animals roaming about, but also stay overnight in a cozy tent in its territory.
38
Pattaya
Location:
235 Moo 7, Tumbom Bang Phra, Umphur Sri Racha in Chon Buri Province
Open hours:
daily from 08:00 to 18:00
Phone:
+66 (38) 298 188
Official website:
http://kkopenzoo.com