Make a wish in the Sanctuary of Truth
#26 of 66 things to do in Pattaya
The 105-meter high Sanctuary of Truth both captivates you with its beauty and terrifies you with its sinister look at the same time. It seems made of lace from the outside, due to the multitude of fine carved embellishments in its design. All the more reasons for visitors' astonishment after they find out that the Sanctuary of Truth is a wooden construction marvel erected without a single nail!

The Thai believe that here Buddha fulfils the mortals' wishes. But it comes for a price: you have to knock to be heard, literally. In order to be granted a wish, you need to conduct the following ritual: approach the three metal items hanging down from the crossbar on the wall opposite to the entrance, carefully think of your inmost wish and then bang on the metal items, alerting Buddha to your call. Greet the deity with three bangs on the leftmost item (the triangle), then cleanse your karma by striking the bell in the center and finally focus your entire mind on the wish while striking the third item – the round gong. Now be patient, and your wish will come true.
Where to do?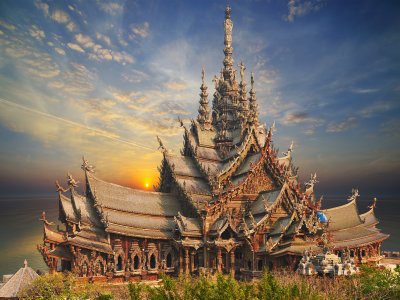 The Sanctuary of Truth
The 105-meter high wooden temple was made without a single nail. Thai people believe that here Buddha fulfils the mortals' wishes.
11
Pattaya
Location:
206/2 Moo 5, Soi Naklua 12 Naklua, Bang Lamung District Chon Buri
Open hours:
every day from 09:00 to 18:00
Phone:
+66 38 367 229
Official website:
http://www.sanctuaryoftruth.com