Enjoy the city view from the gallery of the Royal Palace
#5 of 27 things to do in Madrid
The Royal Palace of Madrid (Palacio Real de Madrid) is used as a royal residence only during official receptions, other times it is opened for tourists.

Take a walk through the numerous rooms of the Royal Palace of Madrid, admire the paintings in the gallery, look at the Throne Room and the Royal Armory and come out to the open gallery, where you can enjoy the skyline from the place where the Kings of Spain once stood.
Where to do?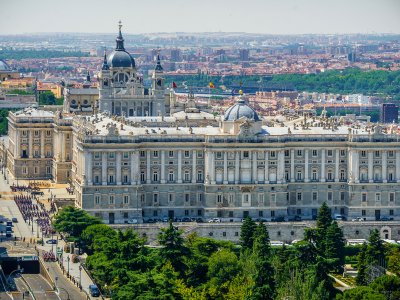 Royal Palace of Madrid
The residence of the Kings of Spain, where you can look at the decoration of the luxurious rooms, see works of famous painters, and once a month see the changing of the guard.
33
Madrid
Open hours: from 10:00 am to 8:00 pm

How much?
€10 for a guided tour and €8 for entrance without a guide.