Visit Neptune's Grotto
#11 of 26 things to do on Sardinia
You can reach Neptune's Grotto in two ways - on the water and on foot. Grotto is located at Cape Caccia, drive to which you can by bus from the town of Alghero. From there to the cave go down the long staircase, from which you will see stunning views of the Mediterranean Sea.

The second way - to sit on the boat, leaving from the bay Cala Dragunara in Alghero, which takes you right to the entrance to the Neptune's Grotto. There you have to buy a ticket to the cave and go on a tour with an experienced guide (tours are in the beginning of every hour from 11:00 am to 4:00 pm).

During the tour you will see the luxurious rooms where stalactites hanging and form a sort of musical instruments, string a few meters in height, a great underground lake Lamarmora. All rooms are illuminated, and it turns the Neptune's Grotto into a fabulous underground palace.
Where to do?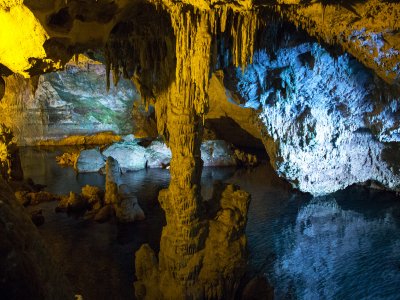 Neptune's Grotto
The majestic grotto near the town of Alghero, with an underground lake, stalactites and luxurious rooms reminiscent of the palace of the king.
39
Sardinia
Open hours: from 11:00 am to 4:00 pm

How much?
€15 - boat trip to the entrance to the Neptune's Grotto and €13 - the entrance and the tour.