Visit the Old Market
#68 of 74 things to do in Dubai
Would you like to feel the true palette of scents of an oriental of the country? Then, go to the Old Dubai Spice Souk and you will not return without a purchase.

Spice Souk market is a true paradise for gourmets. Many years ago, this place was the downtown. Old small shops are filled top to bottom: huge bags show all kinds of spices for fish, meat, baked goods and desserts. Delicious Arabian sweets, nuts, beans and dried fruits in boxes are presented. In addition to traditional grass and spices, here you can buy such true oriental spices as orchid roots or black lemon.
Where to do?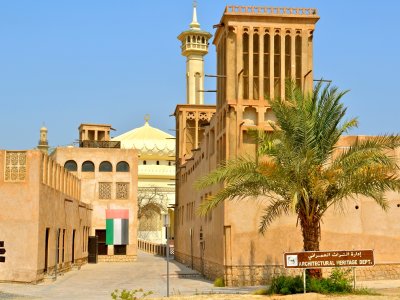 Spice Souk
The Old Spice Souk is not yet touched by «the civilization», but the number of shop counters here reduces every year.
17
Dubai
Location: D 85, Al Ras (just off Sikkat Al Khail Rd)
Open hours: Saturday to Thursday from 10:00 to 22:00, Friday 16:00 to 22:00

Tips and hints
In order to select the required products from this variety, you will have to navigate between rundown small shops located in very narrow side streets. Remember that bargaining is customary in such markets that are a real chance for you to make a good buy.